MY STORY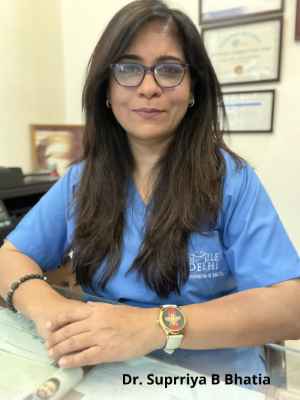 Hello,
I would like to share my story with you; about why I chose to be a dentist out of all the professions available, and why I feel it has been one of the best decisions of my life.
After living as an unhappy teenager with low self-esteem, due to my teeth and despising their shape, size, color, as well as the spaces in-between them, along with suffering from embarrassment, being overweight and almost no social life because of them, my life suddenly changed, when my 71 year old aunt visited our family with beautiful new fixed teeth on implants. She looked younger, healthier, happier than ever before. When we asked her the secret behind her new energetic self, she started singing the praises about a dentist she had been visiting. From her previously broken, decayed, diseased, painful teeth, she now had new, fixed teeth on implants. At 71, she was enjoying eating like she did in her twenties.
The very next day, I made an appointment with that dentist.
When I met the dentist and explained to him how unhappy I was with my smile, he reassured me that I would have the smile that I desired and deserved. He offered to give me a step-by-step treatment plan to sort out my teeth which we did together. And voila! I had my new smile.! The smile I had always dreamt of. I was so thrilled, and soon became motivated to lose weight. I got into a disciplined eating and exercising routine and soon reached my target weight. My confidence levels grew and I started enjoying life. Everyone around me began complimenting not only my smile makeover, but also my slimmer self as well as my livelier personality. I became a happy, positive person spreading happiness and embracing life. I realized how much value a new smile added to my life. That's when it became clear to me; what I wanted to do with my life I would become a dentist and add similar value to other people's lives!
I completed my Bachelors in Dental Sciences, (BDS), from SDM College of Dental Sciences, Dharwad, Karnataka in 1994 and then finished my internship from the same institute in 1995. I got my affiliate degrees of MRSH and MFDI from Glasgow, Scotland, UK in 1997.
I began active private dental practice at Delhi in 1998, and I continued to study and pursued higher studies at Sydney University in Australia in 1998,. I also trained under the 'Nobel Fellow Programme' in 'Implant and Esthetic Dentistry', conducted by Nobel Biocare company of Sweden, from June to December 2008 in New Delhi. I am also a certified healthcare provider in the Basic Life Support programme conducted by the American Heart Association.
I like to keep up with the latest trends, by attending various international and national conferences and education programmes. It's a great joy to me to provide our patients with the latest expertise, as this not only optimises the quality of the treatment, but also makes the whole experience for them much more pleasant and cost effective.
It has been 24 years since I began contributing to people's lives and their health, with my team of specialist dentists. We have improved many people's smiles and lives, including people from 70 countries in addition to India Smile makeovers and oral rehabilitations through dental implants are the two most popular procedures in our clinic.
In order to create awareness around oral hygiene and dental health, I conduct dental workshops and camps regularly with various corporates groups. Some of the companies where I have conducted such camps are:
Times of India
Tata Consultancy Services
Jubilant Organosys
NIIT
American Express Bank
HCL Technologies
Zee
My philosophy in treating patients is, "I will recommend those treatments to my patients, which I would do for my own family members, in terms of quality, longevity and ease of maintenance."
Besides dentistry, I find Zen in travel, Vipassana meditation, nature and adventure.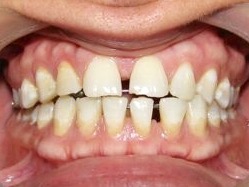 Dr. Suprriya- Pre Treatment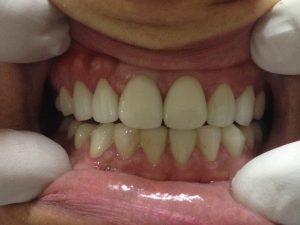 Dr. Suprriya- post Treatment
MISSION
"Adding value to the health and lives of people across the globe, by providing beautiful, healthy smiles, through the highest quality dentistry with personalised care."
VISION
"To be a household name, when it comes to the most trusted, caring and reputable dental practice in India."