MY STORY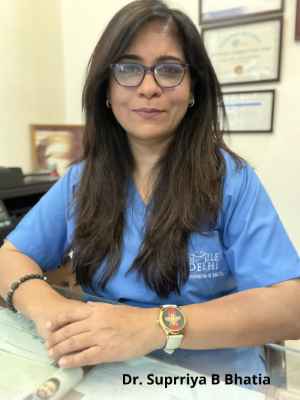 Hello,
I would like to share my story with you; about why, out of all the professions available, I chose to be a dentist and why I feel it has been one of the best decisions of my life.
I spent my teenage years full of angst and low self esteem fixating on my teeth and despising their shape, colour, size and the spaces between them. Combined with being overweight and having virtually no social life, I spent most of my days feeling embarrassed about just being me.
One day my 71 year old aunt visited our family and my life was about to change forever. She looked younger, healthier and happier than ever before and when I looked closer, I noticed that her smile was full of beautiful perfect white teeth. When I asked about her new energetic self and gorgeous smile, she started singing the praises about a dentist she had been visiting who had replaced her old broken, decayed, diseased and painful teeth with stunning new ones permanently fixed on dental implants that allowed her to smile and eat as if she was in her twenties.
I couldn't believe it and had never seen such a thing before. The very next day I made an appointment with the same dentist and counted the days and hours prior to visiting him.
I poured my heart out to that dentist and told him how unhappy I was with my teeth and smile. He listened patiently, empathised and assured me that I deserved and would have the smile that I so desired. Together we sat down and worked out a step-by-step treatment plan to craft my new teeth and smile. I was ecstatic, excited, scared and apprehensive all at the same time and couldn't wait to begin!
The actual dental procedures went by in a blur and I barely remember my time in that dentist's chair now. What I do remember is that first look in the mirror when I saw my beautiful new smile and the tears it brought to my eyes. I finally had the smile I had dreamt of for years and spent the next few days with an insane grin on my face. I became motivated to lose body fat and began a disciplined eating and exercise program and soon achieved my target weight. People started complimenting me on my new smile and slimmer self and my confidence grew and my livelier personality emerged and resulted in my becoming more outgoing and gaining friends. Suddenly I had become a happy, positive person spreading joy and embracing the world and all it has to offer and I realised just how much value a new smile had added to my life.
It was at that moment that I had an epiphany and realised what I wanted to do with my life – I would become a dentist and add similar value and happiness to other people's lives! I began my studies and achieved the qualification necessary to practice dentistry which you can read about in the Our Team section of this website.
It has now been 24 years since I began contributing to people's lives and oral health with my team of dental specialists. We have improved so many people's smiles and lives, including new friends from 74 countries across the World. At 'Smile Delhi-The Dental Clinic' we perform all aspects of dentistry, but it is the 'Smile Makeovers with Ceramic Veneers' and 'Full Mouth Rehabilitation With Dental Implants' that are two of our most popular procedures and the ones that bring my team and me the most pride and joy and keep us smiling every day.
The following are photos of my own teeth both pre and post treatment from all those years ago. When I look at them now, I am amazed at how far clinical and aesthetic dentistry has come in that time. The advances in procedures, tools, materials and local anaesthetics are light years ahead of when I had my work done and continue to advance. It also fills me with immense satisfaction that we routinely provide better results at Smile Delhi for patients that come to us with teeth and oral problems that are far, far worse than my pre-treatment photo below. My team and I hope to help you achieve your dream smile as well.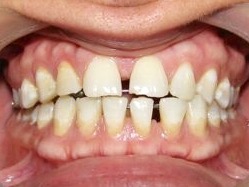 Dr. Suprriya- Pre Treatment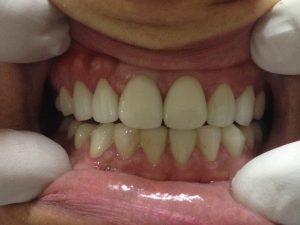 Dr. Suprriya- post Treatment
MISSION
"Adding value to the health and lives of people across the globe, by providing beautiful, healthy smiles, through the highest quality dentistry with personalised care."
VISION
"To be a household name, when it comes to the most trusted, caring and reputable dental practice in India."
Our Team of Specialists



Dr. Suprriya B Bhatia

Owner, Lead Dentist & Patient Partner

As the owner of Smile Delhi, Dr. Bhatia completed her Bachelors in Dental Sciences (BDS), from SDM College of Dental Sciences, Dharwad, Karnataka in 1994 and finished her internship with the same institute in 1995. She gained her affiliate degrees of MRSH and MFDI from Glasgow, Scotland, UK in 1997.
As your main point of contact with Smile Delhi, Dr. Bhatia prides herself in communicating directly with prospective patients and making herself available to provide extensive advice, education and consultation before they even set foot in their dental practice or even India itself (incase of inbound patients from abroad).




Dr. Hema Agrawal

Associate Dentist

Dr. Hema Agrawal is our full time Associate Dentist at 'Smile Delhi'. She has completed her BDS from Buddha Institute of Dental Sciences and Hospital, Patna, Bihar. She is competent and diligent. Having a vast clinical experience of 8+ years, she conducts various dental procedures like root canal procedures...
Always found with a warm smile on her face, she strives to make her patients' dental experience a pleasant one. Her forte is that she is very gentle and calm in dealing with patients who are anxious and have their first visit to the dental office. She is sensitive to the patients' fears and concerns and adept at calming anxious patients...




Dr. Ankit Gupta

Crown and Bridge Specialist (Prosthodontist)

Dr. Gupta completed his post graduate 3 year Master of Dental Surgery (MDS) in Prosthodontics and now has over 15 years experience in performing 'Smile Makeovers' and using all-ceramic crowns and veneers and 'Full Mouth Rehabilitations' also for collapsed bites, patients with loss of vertical dimension...
Dr. Gupta is both a skilled dental surgeon and artist who prides himself in creating a beautiful smile built upon a strong and secure foundation created upon your existing teeth, implants or a mixture of both. He begins by measuring and assessing your facial features and teeth positions against the golden proportions...




Dr. Anshul Jain

Oral Maxillofacial Surgeon & Implant Specialist

Dr. Anshul Jain is our oral maxillofacial surgeon and Implant Specialist. He graduated from Subharti dental college and did his masters from ITS dental college and is associated with Narendra Mohan Hospital, Rajiv Gandhi  Cancer Institute and Research Centre and Max super speciality hospital, Vaishali (Head and Neck Oncology). He has achieved an ICOI; International Congress...

Specialising in :

Full Mouth Rehabilitation with Implants by ALL ON 6; ALL ON 4; Implant Supported Dentures / Overdentures
Immediate Dental Implants post extractions in the same sitting
Immediate dental implants with direct and indirect sinus lifts
Bone Augmentation




Dr. Randhir Kishore

Root Canal Specialist (Endodontist)

Dr. Randhir Kishore is our root canal specialist (Endodontist). He specialises in the diagnosis and treatment related to the infected nerves of the teeth. Having graduated from 'Manipal College of Dental Sciences' (MCODS). He completed additional 2 years training under the esteemed Dr. Erowele Darlingtonin in Houston...
Dr. Randhir estimates that he has completed in excess of 6,000 root canal treatments to date and is an expert in 'single sitting root canal treatments,' and uses the latest minimally invasive motorised technique. He keeps up to date on the continual development of modern anaesthetics and utilises them to eliminate or dramatically reduce any pain.




Dr. Rajesh Gandhi

Orthodontist

Dr. Rajesh Gandhi is a specialised orthodontist with over 20 years of experience. He has a special interest in early intervention orthodontics so that comprehensive treatment can be minimised. He has been trained by some of the most recognized and respected teachers like Dr. Rafi Romano in lingual orthodontics...
You will see Dr. Gandhi to correct all types of misaligned teeth to improve your smile. These include overbite, underbite, crossbite, the gap between teeth, crooked teeth, or any type of teeth misalignment. He's a certified Invisalign provider, catering to the most demanding cases with spectacular results. Due to the long term nature...




Dr. Aashwiin Miglani

Gum Specialist (Periodontist)

Dr. Aashwiin Miglani is our gum specialist (periodontist). He has done completed his masters in periodontology from Bharati Vidyapeeth University, Pune and is the key opinion leader for

CSM Dental Implants
Perio faculty at the Institute of Dental Excellence...

Generally, you will only see Dr. Miglani should you require his laser and surgical dental skills for:

Gum Depigmentation / Bleaching
Gum Contouring
Treating Gummy Smiles
Frenectomy (extending tongue reach)




Dr. Sharon Paul

Kids Specialist (Pedodontist)

Dr. Sharon Paul, a skilled and compassionate dentist, completed her Bachelors in Dental Surgery from the prestigious Karnavati School of Dentistry Gujarat, followed by Masters in Dental Surgery from Ahmedabad Dental College and Hospital Gujarat. With a wealth of experience gained from practicing...
One of Dr. Sharon Paul's greatest enthusiasms lies in educating parents about their children's oral hygiene. She firmly believes that parental involvement and education play a vital role in maintaining a cavity-free mouth for little ones. Dr. Paul takes the time to explain proper brushing and flossing techniques to parents...




Dr. Arjun Dhiman

Implant Specialist

Dr. Arjun Dhiman is our Implant specialist and graduated from Govt. dental college PGIMS, Rohtak, Haryana and completed his masters from All India Institute of Dental Science (AIIMS), New Delhi. His All India rank in AIIMS was No.1 and specialise in 'all on 6' and 'all on 4' implants for those who have lost...
With specific training in both Nobel Biocare (Sweden) and Osstem (Korea), Dr Arjun has performed many implants with success till date. He will be your initial specialist at our clinic should you have no teeth and require a strong foundation on which we build your new smile. Skilled at immediate / same day implants...




Dr. Tarun Giroti

Implant Specialist

Dr. Tarun Giroti is one of the pioneers of dental implants in India. With over 22 years of experience, he is a key opinion leader and speaker for Alpha Biocare Implants and has completed various national and international courses in USA, Israel, Japan, Australia and Lisbon. Dr. Giroti is well versed with the leading implant systems...
Having done so many implants to date, you will see him if you require a single implant to replace a lost tooth or if you have lost all your teeth and wish to regain your smile. He will assess your jaw and bone health to determine the best type and brand of implant for your unique physiology and available time...
Our Support Staff



Santoshi Sarkar

Practice Manager & Photographer

Santoshi with her lovely smile and  amicable personality is the first point of contact for a patient who visits the clinic. Being soft spoken and empathetic, she is liked by patients. She is a conscientious worker whether it's inventory management or data updating and maintenance etc.
Santoshi ensures that all materials and services are available to our dental team as and when required. Her organisational and communication skills ensure our patients are scheduled and greeted both professionally and compassionately.




Govind Negi

Senior Dental Assistant

Govind is an adept Dental Assistant. Having an experience of over 20 years, he is an expert in not just assisting all the specialists while they are treating patients, also knows all the inhouse lab procedures and sterilisation protocols.
An indispensable part of our team, Govind works seamlessly with our dentists and specialists to ensure that all procedures are carried out efficiently and in the minimum amount of time. His experience and professionalism means that he invariably has instruments...




Neetu Singh

Dental Assistant

Neetu is an expert dental assistant. She assists all the specialists by providing and preparing the required materials. Is especially good at helping with the treatment of geriatric patients and kids.
Neetu with her happy expression and welcoming smile, has a pleasant demeanour.