Case Studies
CASE STUDY I – FULL MOUTH REHABILITATION WITH IMPLANTS AND CROWNS
PATIENT NAME – Mr Robert Abbey (Melbourne, Australia)
CHIEF COMPLAINT – Mr Robert Abbey visited us to get his entire mouth rehabilitated. He was suffering from an acute gum disease as a result of which, he had lost some of his teeth The remaining teeth were mobile and painful, gums spongy, puffy and bleeding .There was pain and infection as well as foul smell in his mouth. Thus he was not able to enjoy eating and was embarrassed about his teeth.
TREATMENT – All the remaining diseased teeth were extracted, thorough deep cleaning and flap treatment of the gums was done, bone grafts were placed, implants were placed and then temporary teeth were given for around 6 months. After 6 months once the implants and the bone had fused, permanent crowns were provided.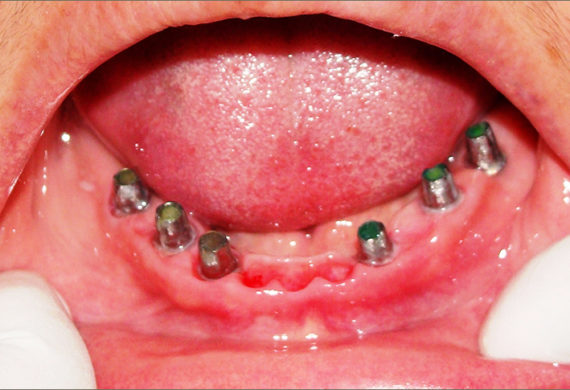 Before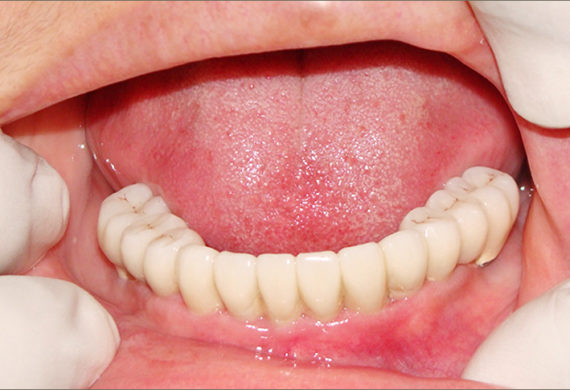 After
Testimonial

"In the measure of being an ex-patient of Dr Supriya Bhatia, I have no hesitation in recommending her dental clinic for implant work or any other dental procedure. Not only is the clinic maintained to the highest of the medical standards, but the very personal service furnished to each and every patient in the form of daily telephone contact, makes going for Suprriya's dental surgery a considerably agreeable experience. I would also state categorically that the work of team colleague, Dr Gupta and his assistant, in the domain of implants, does not fall short of excellence and again, I can sincerely recommend his most professional and easy approach to the job in hand."
CASE STUDY II -SMILE MAKEOVER WITH CERAMIC VENEERS AND ALL CERAMIC CROWNS
PATIENT NAME : Tabassum Kwaja (Dubai, UAE)
CHIEF COMPLAINT : Tabassum did not like her smile as her teeth were overlapping, their colour was dull and greyish and the shape was masculine.
TREATMENT : We gave her a smile makeover with ceramic veneers and all ceramic crowns.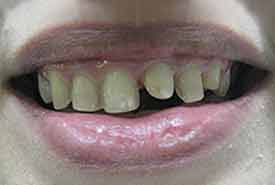 Before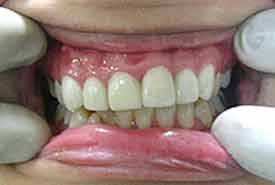 After
Testimonial

"Thank you very much Dr Suprriya & team for my smile makeover. My teeth not only look good now but they feel great as well."
CASE STUDY III- FULL MOUTH REHABILITATION WITH -FILLINGS, ROOT CANALS AND REPLACEMENT OF MISSING TEETH WITH BRIDGES
PATIENT NAME : Guy Okechuku (Nigeria)
CHIEF COMPLAINT : Mr Guy had pain in some of his teeth as a result of which he was unable to chew food and was embarrassed because of the gaps in his smile.
TREATMENT : He was treated by deep cleaning of the gums, fillings, root canals and bridges for missing teeth.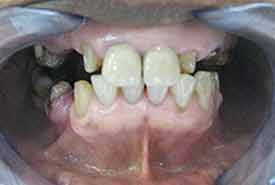 Before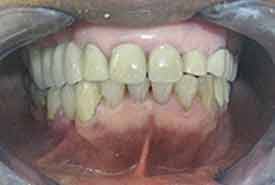 After
Testimonial

"Thanks for making me smile permanently. You have successfully reconstructed my teeth and I remain eternally grateful to you and pray that you repeat the same to others."
CASE STUDY IV- SMILE MAKEOVER WITH ALL CERAMIC CROWNS
PATIENT NAME : Julie (Victoria, Australia)
CHIEF COMPLAINT : Julie was not happy with her old crowns and did not like the alignment of her teeth as they were crooked.
TREATMENT : We gave her a smile makeover with all ceramic crowns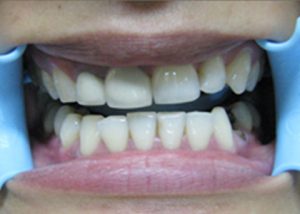 Before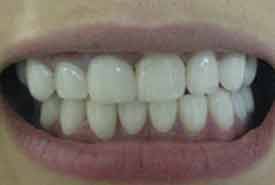 After
Testimonial

"Thank you so much Dr Suprriya and Dr Ankit for the professionalism and dedication manifested throughout the treatment .I love my new teeth and the beautiful smile bestowed to me…no more hiding! Best dental clinic ever and everyone back home will be hearing about your excellent work and clinic! Thank you again."
CASE STUDY V- SMILE MAKEOVER CASE AT 'SMILE DELHI-THE DENTAL CLINIC'
PATIENT NAME : Mr. Y
CHIEF COMPLAINT : A young patient, lets call him Mr Y, of 29 years visited our clinic. He was unhappy with his teeth and hated his smile. He did not like anything about his teeth, the shape, size or the colour.
TREATMENT : We decided to give him a smile makeover.
The patient chose 28 zirconia crowns of B1 shade, for his smile makeover.
On day 1 : scaling and polishing(oral prophylaxis) for Mr Y's teeth was done full mouth Xrays were done.
On day 2 : Our crown and bridge specialist (prosthodontist) got to work. He assessed the occlusion/ the bite of the patient and corrected the occlusal discrepancies ie corrected the bite did the crown preparation for the 16 back teeth ie premolars and molars, took their impression for the permanent crowns and gave temporary crowns on the back teeth.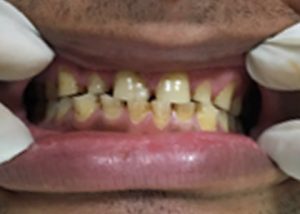 Before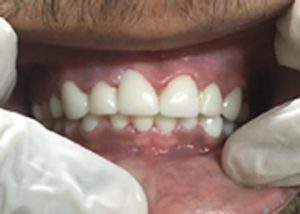 After
On day 7 : The permanent crowns for the 16 back teeth were fixed in the patient's mouth the crown preparation for the front 12 teeth were done ie incisors and canines, their impression was done for permanent crowns and temporary crowns were given
On day 12 : the permanent crowns for the front 12 teeth were given in the patient's mouth.
THE RESULT
In 12 days Mr Y was a changed man, with a new life. The patient was really happy with his new smile.He was more confident and psychologically more upbeat. He got himself a new and much better job than his previous one. His girlfriend was certainly all eyes for him:) The zirconia ceramic crowns are very lifelike. They do not stain and have a warranty of 10 years. Though smile makeovers are done in dental clinics in Delhi, it is one of our favorite procedures at, 'Smile Delhi-The Dental Clinic.'All dentists in Delhi, are not equipped to do this procedure, however the specialist dentists in Smile Delhi have been doing this job for patients to their satisfaction for the last 17 years.