Case Studies
CASE STUDY I – FULL MOUTH REHABILITATION OF TOTAL BITE COLLAPSE
PATIENT NAME – Mr. Chris Horne (Cambridgeshire, England)
Introduction – Chris initially contacted us from Cambridgeshire, England via email. He was aware that he had a total bite collapse and provided a panoramic jaw x-ray showing two pre-installed implants that had been fitted 3-4 months earlier. He was unsatisfied with the communication and response he was receiving from the dentist in Delhi that had installed the implants and was reaching out to other dental clinics in Delhi for advice and treatment options. After communicating with Smile Delhi via e-mail and WhatsApp discussions he made the decision for us to carry out the work and booked his flights.
I (Dr Suprriya) would like to take this opportunity to express my gratitude and thank Chris Horne, for taking out the time and making the efforts to write down his case study himself in a very comprehensive manner. Chris was so satisfied and happy with his treatment and experience that he wanted to share it with the world and in the process help any other patients who are in the same boat, as he was.
Patient's Introduction – I have been attending regular annual NHS dental check ups in the UK my entire life and at no point had any dentist pointed out that my upper teeth completely cover my lower and that this is not normal and accelerated wear and erosion of the teeth. I became concerned when three lower teeth chipped off pre-Covid. I was in India at the time and had a dentist look at them and he immediately told me that I have a full bite collapse and would need two implants and a full bite rehabilitation to prevent the loss of further teeth and the eventual need for false teeth or a full set of implants. I said I would think about it and returned home – then Covid hit.
Post Covid, I was back in India and went to the same dentist to discuss the implants and was told that they take three months to heal before they can be fitted with a new tooth/crown. Knowing that I would be back in India in 3-4 months time, I had to make a decision fast. I got my dental implant treatment in Delhi. I had Swedish implants fitted the same day and took photos of the implant labels for traceability and had the panoramic x-ray showing the implants e-mailed to me. I had the implants checked by the same dentist in Delhi before departing for home.
Two months flew by and I started thinking about planning another trip to India to get the rest of the work done. I emailed the original dentist that had installed the implants and asked some basic questions in regard to the brand name and model of the zirconia that would be used in the zirconia crowns (all ceramic crowns), estimated number of root canals, what the process would involve and approximately how long it would take. After multiple emails and receiving generic replies along the lines of 'we will use the best materials', we will decide when you come in, etc., I became so frustrated that I Googled 'best dentist in Delhi' and such like and became even more confused with all the generic sites and so called 'dentist reviews' that came up. After spending literally days going through websites (many were dead ends), I came up with 25 dental clinics in Delhi to contact. I put together an email with my bulleted questions, attached the panoramic x-ray and photos of the implant labels, stated I had a visa in place and would be in Delhi in 4 weeks' time to get the work done and to e-mail or WhatsApp me if they would like to discuss my case and provide a budgetary price. In my mind, I was offering a lucrative, high-end procedure to all of these dentists in Delhi whose websites stated they had carried out similar work previously and could do the same for me.
45 minutes later, Dr. Suprriya of Smile Delhi made contact via WhatsApp and asked for additional and specific photos of my current teeth which I provided and also emailed to the other 24 dentists. Over the next two days I continued communicating with Dr. Suprriya (a practicing dentist in South Delhi) via WhatsApp and e-mail and all of my questions were answered succinctly and professionally and I made the decision to have Smile Delhi carry out the work and booked flights. Two days later I received some communication from three of the other dentists I approached but they also were incapable of answering basic questions. I have not heard anything from the other twenty one dentists in Delhi.
Day
Treatment
Patient Words
1



Arrived at our clinic at 10am. Initial assessment for "Full Mouth Rehabilitation" of total bite collapse with Zirconia Crowns and single sitting Root Canal Treatments completed and confirmed. Some looseness to front top teeth from constant impact with lower teeth. Three teeth chipped and all teeth eroded until very thin. Two teeth identified for extraction.

Local anesthetic applied.

18 teeth shaped over a 6 hour period with two 15 minute breaks.

Fitted with first temporary teeth protectors and bite trainer to bring the jaws back into alignment.

Measured to determine the amount of jaw/bite correction required in comparison with the golden ration of facial features.

I arrived at Delhi airport just past midnight and had the hotel car waiting for me. I checked in, connected to the Wi-Fi and went straight to sleep. I awoke, showered, had breakfast and took an Uber to Smile Delhi – The Dental Clinic.

After introduction to Dr Suprriya and her team, it was straight into the dental chair. The crown and bridge specialist measured all of my facial features to compare to the golden ratio to determine the target sizes of both the temporary and final crowns/ teeth and what sort of jaw alignment correction was required. This was unexpected and very impressive.

Numbing gel was applied to my gums and local anesthetic injected. No pain, only a sensation of the needle in place.

The specialist then got to work shaping all of my teeth. Again, there was no real pain, just the sensation of vibration and the sound of the tool which I blocked out by focusing on the soothing background music. This continued for 6 hours with a couple of breaks. A bite block was also utilised on the opposite side of my jaw and was great for supporting the jaws as I didn't have to remember to keep my mouth wide open.

Finally, I was fitted with first temporary teeth that included a block to train my jaw back to its correct alignment. It looked strange and I was limited to a soft food diet for a few days. I took great delight in showing people in the hotel my 'monster teeth'. They felt weird but I got used to them after a day and was eating fine.

I was advised to have two upper teeth extracted as they were moving, due to continuous pressure from lower teeth.

2
Local anesthetic applied.

Two teeth removed. Two implants exposed, healing collars fitted and gums sewn back up.

Dental impressions taken to produce second temporaries.

Advised that it is recommended to get single sitting root canal treatment for all the teeth except the two canines to build a strong foundation and negate any future potential issues with sensitivity/ pain.

Same experience with the anesthetic and two extractions performed in less than an hour without pain. The implant specialist arrived and exposed the implants that were previously fitted 3-4 months ago, fitted healing collars into the threaded sockets and sewed back up my gums without pain.

Taking the dental impressions took less than 15 minutes.

Advised to have 18 root canals performed which were scheduled for the next day.

3
Local anesthetic applied.

14 root canal treatments performed by the root canal specialist with over 5,000 such procedures already completed.

Medication provided.

I was quaking in my boots at the thought of having so many root canals in one day and deliberately did not Google it. I had never had a root canal before.

I needn't have worried – once the anesthetic had been applied, I felt no pain, just the sensations of the tools doing their job in the hands of a professional root canal specialist. After completing 14 root canals over a good number of hours with a couple of breaks, the specialist called a stop and said he would complete the other 4 tomorrow as he was getting tired.

Whilst I could have gone on for the other 4, I was incredibly impressed by the specialist's decision and professionalism in knowing his limits and not just pushing on to 'get the job done'.

4
Local anesthetic applied.

4 single sitting root canals – treatments performed.

Pretty much the same experience as the previous day in regards to the root canals.

One slight twinge of pain at which point the specialist applied some additional anesthetic.

5
Dental impressions taken for the final zirconia crowns and bridges. Patient chooses colour.

Second temporary teeth installed and customized to the patient's bite.

Dietary instructions provided.

It was good to get rid of the first temporaries with the bite correction block (my monster teeth). It was great being able to choose the colour and see samples in different light and made me feel the light at the end of the tunnel was in sight!

The second temporary teeth looked just like real ones and are a lot easier to eat with. It took me a couple of days before they started to feel part of me.

I was looking forward to a break from the dentist chair and my tour around India.

6-19
Patient toured India while the medication took care of any inflammation.

Final zirconia crowns and bridges released to the laboratory for production.

I had a great time on a road trip with a driver to see the Taj Mahal and the Pink City and even took a low cost Indigo flight to Goa for a few days on the beach before returning to Delhi.

Second temporary teeth settled in nicely and I completed my medication course with no issues or pain. Not a single person noticed that these were not my real teeth and just plastic temporaries.

20
Patient elected to have root canals performed on his final two teeth (canines) which were performed. Second temporaries removed.

Final all ceramic zirconia crowns and bridges fitted and checked for size. Returned to the laboratory for modifications. Second temporaries refitted.

Implants are sized in relation to final zirconia crowns and bridges in place and dental impressions taken for the implant crowns to be fabricated.

I had decided to have my final two teeth root canaled and had advised Dr. Suprriya via WhatsApp so everything was ready. My thought was that as all my teeth would have bridges/crowns, it made sense to get these done now rather than risk any future sensitivity pain in them after they were covered.

This was the first time I got to see my final teeth! It was strange seeing them on the contraption that holds them during transport.

The crown and bridge specialist took a good couple of hours in fitting them and adjusting them and decided they needed to go back to have some additional material added in a couple of places. I appreciated his perfection instead of over trying to hurry and get them fitted.

The implant specialist also measured and took impressions at this stage to make the two crowns to go on my implants.

21
Day off.
I took an Uber to the shopping mall and got a few pairs of trousers. You just find your waist size and cutting them to length is included in the price – great service and so much easier than buying trousers in England.

Spent a couple of hours at the hotel pool.

22


Second temporaries removed and disposed off.

Final zirconia crowns and bridges fitted, colour shown under various light sources, checked for size, adjustments made and final fix performed when both the dentist and patient were satisfied.

Abutments (posts) fitted to implants and crowns attached. Adjustments made to ensure optimum bite.

The Big Day!!! It's felt like quite a journey but I'm finally going to get my permanent new teeth!

The specialist took a good 2 hours to ensure that the final teeth were fitted perfectly and made numerous small adjustments based on carbon paper measurements and my feedback.

All of the bridges/crowns were then permanently fixed when both he and I were happy with the fit and look. There was then another hour or two of final in mouth adjustments and clean up.

Next, the implant specialist went to work, removed the healing collars, screwed in the abutments/posts and fitted the last two crowns/teeth. He then adjusted these so they function in accordance with the rest of my new teeth.

A final clean up and polish was performed and I was good to go out into the World and try them out!

No anesthetic required and no pain felt.

I wandered around the hotel with a permanent grin on my face and told my story to anyone who would care to listen. Its surprising the number of people who want/need dental work but do not know which dentist to trust. I should have been on commission!

23-24
Days off.
Just chilled out around the hotel and the pool and practiced eating with my new teeth.

Initially they feel kind of weird as they are so new and my jaw and face were adjusting to them. Now pain but a little tenderness at the two implant locations – nothing that stopped me eating.

25
Check up and small adjustments made based on patient feedback and bite optimization.
Sizing checks with carbon paper again and very small adjustments made based on this and my feedback about using them the previous two days.

Received the night guard and instructions on how to use and remove it.

26-28
Days off.
Just chilled out around the hotel and the pool.

I thought the night guard would feel strange and prevent me from sleeping but it turned out to be no issue to wear at all. It forms a vacuum seal to your upper teeth so there is no danger of it coming loose while you sleep. In the morning, you break the vacuum seal by moving the top with a fingernail and it just drops off.

29
Final check up and adjustments performed based on patient feedback and bite optimization. Full polish given.

Daily care regime provided and all patient's questions answered.

Final tweaks to my new teeth based on carbon paper measurements and my feedback and everything is complete.

I had a few questions which the specialist was fine with taking the time to answer for me and I was good to go.

I can't believe it's all done!

30
Patient departed for the United Kingdom.
The implants didn't set off the metal detector and my trip home was uneventful though it seemed a shame to use my nice new teeth on airline food…
CASE STUDY II – FULL MOUTH REHABILITATION WITH IMPLANTS AND CROWNS
PATIENT NAME – Mr Robert Abbey (Melbourne, Australia)
CHIEF COMPLAINT – Mr Robert Abbey visited us to get his entire mouth rehabilitated. He was suffering from an acute gum disease as a result of which, he had lost some of his teeth The remaining teeth were mobile and painful, gums spongy, puffy and bleeding .There was pain and infection as well as foul smell in his mouth. Thus he was not able to enjoy eating and was embarrassed about his teeth.
TREATMENT – All the remaining diseased teeth were extracted, thorough deep cleaning and flap treatment of the gums was done, bone grafts were placed, implants were placed and then temporary teeth were given for around 6 months. After 6 months once the implants and the bone had fused, permanent crowns were provided.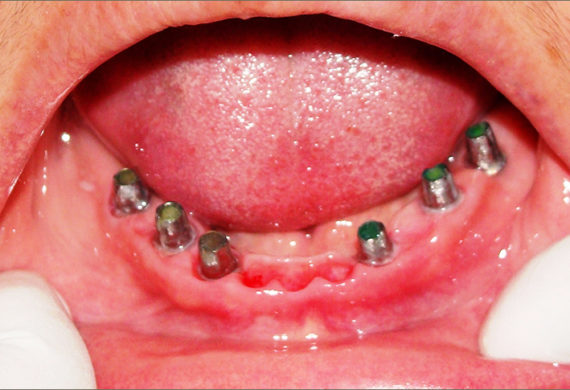 Before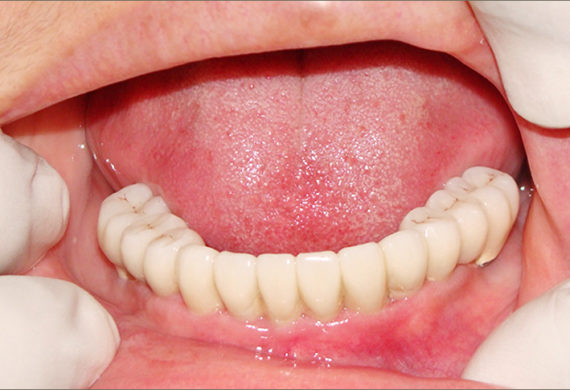 After
Testimonial

"In the measure of being an ex-patient of Dr Supriya Bhatia, I have no hesitation in recommending her dental clinic for implant work or any other dental procedure. Not only is the clinic maintained to the highest of the medical standards, but the very personal service furnished to each and every patient in the form of daily telephone contact, makes going for Suprriya's dental surgery a considerably agreeable experience. I would also state categorically that the work of team colleague, Dr Gupta and his assistant, in the domain of implants, does not fall short of excellence and again, I can sincerely recommend his most professional and easy approach to the job in hand."
CASE STUDY III -SMILE MAKEOVER WITH CERAMIC VENEERS AND ALL CERAMIC CROWNS
PATIENT NAME
: Tabassum Kwaja (Dubai, UAE)
CHIEF COMPLAINT : Tabassum did not like her smile as her teeth were overlapping, their colour was dull and greyish and the shape was masculine.
TREATMENT : We gave her a smile makeover with ceramic veneers and all ceramic crowns.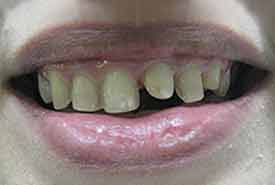 Before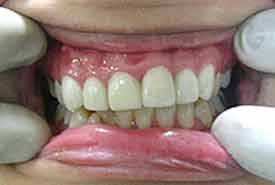 After
Testimonial

"Thank you very much Dr Suprriya & team for my smile makeover. My teeth not only look good now but they feel great as well."
CASE STUDY IV- FULL MOUTH REHABILITATION WITH -FILLINGS, ROOT CANALS AND REPLACEMENT OF MISSING TEETH WITH BRIDGES
PATIENT NAME : Guy Okechuku (Nigeria)
CHIEF COMPLAINT : Mr Guy had pain in some of his teeth as a result of which he was unable to chew food and was embarrassed because of the gaps in his smile.
TREATMENT : He was treated by deep cleaning of the gums, fillings, root canals and bridges for missing teeth.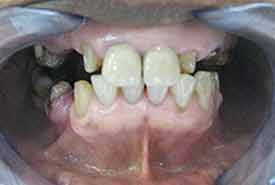 Before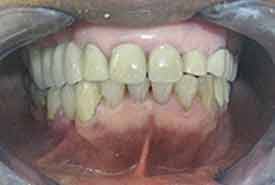 After
Testimonial

"Thanks for making me smile permanently. You have successfully reconstructed my teeth and I remain eternally grateful to you and pray that you repeat the same to others."
CASE STUDY V- SMILE MAKEOVER WITH ALL CERAMIC CROWNS
PATIENT NAME
: Julie (Victoria, Australia)
CHIEF COMPLAINT : Julie was not happy with her old crowns and did not like the alignment of her teeth as they were crooked.
TREATMENT : We gave her a smile makeover with all ceramic crowns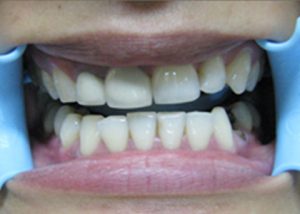 Before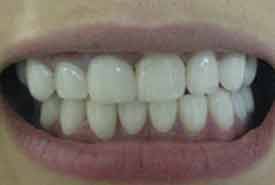 After
Testimonial

"Thank you so much Dr Suprriya and Dr Ankit for the professionalism and dedication manifested throughout the treatment .I love my new teeth and the beautiful smile bestowed to me…no more hiding! Best dental clinic ever and everyone back home will be hearing about your excellent work and clinic! Thank you again."
CASE STUDY VI- SMILE MAKEOVER CASE AT 'SMILE DELHI-THE DENTAL CLINIC'
PATIENT NAME : Mr. Y
CHIEF COMPLAINT : A young patient, lets call him Mr Y, of 29 years visited our clinic. He was unhappy with his teeth and hated his smile. He did not like anything about his teeth, the shape, size or the colour.
TREATMENT : We decided to give him a smile makeover.
The patient chose 28 zirconia crowns of B1 shade, for his smile makeover.
On day 1 : scaling and polishing(oral prophylaxis) for Mr Y's teeth was done full mouth Xrays were done.
On day 2 : Our crown and bridge specialist (prosthodontist) got to work. He assessed the occlusion/ the bite of the patient and corrected the occlusal discrepancies ie corrected the bite did the crown preparation for the 16 back teeth ie premolars and molars, took their impression for the permanent crowns and gave temporary crowns on the back teeth.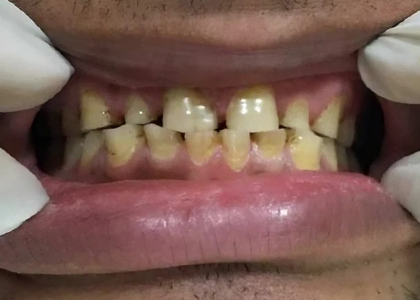 Before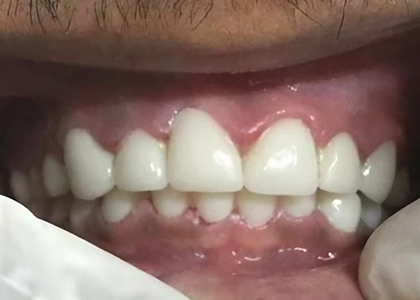 After
On day 7 : The permanent crowns for the 16 back teeth were fixed in the patient's mouth the crown preparation for the front 12 teeth were done ie incisors and canines, their impression was done for permanent crowns and temporary crowns were given
On day 12 : the permanent crowns for the front 12 teeth were given in the patient's mouth.
THE RESULT
In 12 days Mr Y was a changed man, with a new life. The patient was really happy with his new smile.He was more confident and psychologically more upbeat. He got himself a new and much better job than his previous one. His girlfriend was certainly all eyes for him:) The zirconia ceramic crowns are very lifelike. They do not stain and have a warranty of 10 years. Though smile makeovers are done in dental clinics in Delhi, it is one of our favorite procedures at, 'Smile Delhi-The Dental Clinic.'All dentists in Delhi, are not equipped to do this procedure, however the specialist dentists in Smile Delhi have been doing this job for patients to their satisfaction for the last 17 years.