Teeth Whitening Treatments in India
Teeth Whitening Clinic and Dentist in South Delhi
Teeth discolouration is a common problem, faced by people all over the world. Black tea, black coffee, smoking, red wine, the traditional foods which involve the use of spices like turmeric, are the most common cause of teeth discolouration. Apart from this, sodas, and aerated cold drinks can harm the enamel and make it more prone to discolouration. Teeth whitening products like toothpastes or home remedies can also do more harm than good . Such products usually work by removing the layer of your enamel which can lead to tooth sensitivity. Therefore, it is recommended that if you want a million dollar bright white smile, it should be done under the supervision of a Dentist at the dental clinic.
"Having been in practice for 24 years I have tried all the teeth whitening materials and methods available worldwide. I found ZOOM ADVANCED to be the most efficient system available worldwide. It has been a very popular cosmetic dental procedure in our clinic. It is perfectly safe. Patients feel so much more confident, and the quality of their personal and professional lives increases a great deal"….Dr Suprriya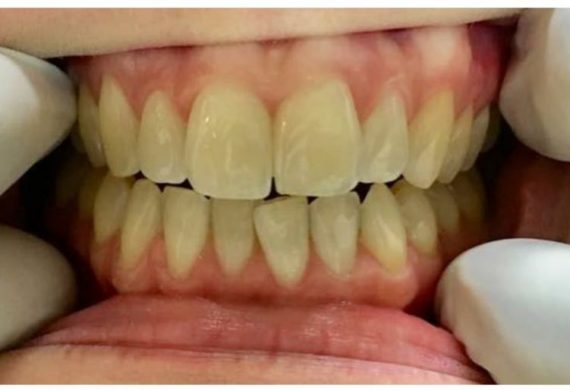 Before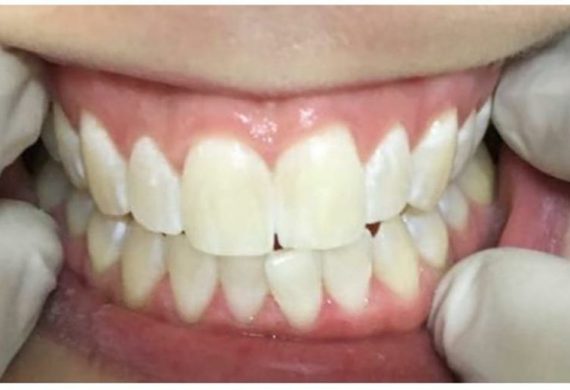 After
Get Your Million Dollar Bright White Smile, By Zoom Advanced In Just One Hour
THIS IS HOW YOU GET YOUR 'MILLION DOLLAR BRIGHT WHITE SMILE' BY Zoom ADVANCED IN JUST ONE HOUR
I really like the procedure of Zoom Advanced, because within an hour, we get spectacular results. The new smile is brighter by 6-8 shades. Before this, we do a thorough, oral prophylaxis i.e. scaling and polishing.
You can be assured that this is the latest and most scientifically advanced, 'in-office tooth whitening system' available worldwide.The convenience of this method compared to wearing trays and strips over many days, makes Zoom Advanced teeth whitening the perfect choice for busy individuals.
Home Bleaching
This is also an effective way of whitening teeth. The bleaching trays are customised for the patient. The impression is done on day 1,for both the upper and lower jaws. The trays are ready on day 2. Tubes of the bleach material are also provided. The patient wears these trays with the bleaching material at night, for 7 to 9 nights. The results are good, but it is a time consuming process.

Here is what some of our patients had to say, about their teeth whitening experience they had done at Smile Delhi.
Jeremie Comean, Canada

"Dr. Suprriya Thank you so much for the quick and painless whitening done today. The experience exceeded my expectation and I shall most definitely recommend you to others. Best"
Hugh, Ireland

"Excellent work Dr. Suprriya, My teeth are 7- 8 shades whiter. The visit and your office are extremely professional. Great speaking with you also, my thanks to you and your team."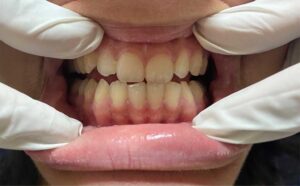 Before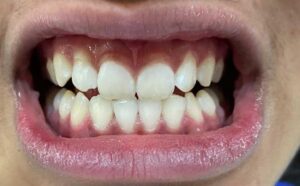 After
Frequently Asked Questions
How Does Teeth Whitening Work?
The teeth whitening procedure involves the application of a gel, which is either carbamide peroxide or hydrogen peroxide that penetrates the enamel of your teeth to get rid of the discolored molecules. On application of the UV light (ultra violet light), oxygen gets releases from the gel and reacts with discolored molecules in your teeth, breaking the bonds that hold them together. As a result, you are left with a brighter, whiter smile.
How Long Does it Take to Whiten Teeth?
The in-office teeth whitening procedure, is a single visit procedure and gets completed in about an hour. This procedure instantly whitens and brightens your teeth. At home teeth whitening procedure, involves the use of whitening trays and gels. These are to be worn overnight, on consecutive nights or alternate nights for one or two weeks till the desire outcome is achieved.
Should I Get a Dental Cleaning Before or After Teeth Whitening?
Teeth whitening works most effectively on clean teeth surface, free of plaque and tartar. Yes dental cleaning is required before the whitening procedure to enhance the results of teeth whitening. Thus it is important to get it done.
Does Teeth Whitening Hurt?
Teeth whitening does not hurt. Just about 10 to 15% of the patients experience some sensitivity from the teeth whitening procedure. This sensitivity is short lift. It goes away in one or two days. If you do experience sensitivity after treatment an OTC pain reliever and toothpaste can usually help to relieve the symptoms.
Will Whitening My Teeth Damage my Enamel?
No, the teeth whitening procedure does not damage your teeth enamel at all. A major benefit of whitening your teeth under dental professional care is that you significantly reduce the risk of any damage to tooth enamel, gums or otherwise.
What is the Difference Between Bleaching and Whitening Teeth?
Bleaching and whiting are exactly the same procedure for the teeth.
How Long Does Teeth Whitening Last?
The whitening effect normally lasts between one to three years. This is very much related to your lifestyle the kind of food and drinks you consume, smoking habits, age and your oral hygiene. Frequently drinking coffee, tea or red wine can bring discolorations back quite quickly. We do not recommend in-office whitening more than once a year to protect your tooth enamel and gums. But at home whitening trays and gels can be used to top up in between for the results to last long.
What Foods Should be Avoided After the Whitening Procedure?
Any item which stains a white shirt can stain your teeth for 24 hours after the teeth whitening procedure. Such foods should be avoided.
Colored liquids: Tea, coffee, red wine, cola and tomato juice.
Acidic Beverages: Soft drinks, fruit juices and alcohol in general.
Foods with natural or added colorants: Soya sauce, ketchup and turmeric based curries.
Does Tooth Whitening Affect Fillings, Veneers or Crowns?
Tooth whitening has little or no effect on restorative materials such as porcelain /ceramic of crowns. However it may temporarily reduce the bond strength between enamel and composite restorations. This is why it's a good idea to check with your dental professional before beginning any course of tooth whitening.
Do Whitening Toothpastes Work?
Whitening toothpastes which claim to whiten teeth do not really work. These toothpastes typically only clean the surface stains temporally and do not actually change the color of the teeth. All whitening toothpastes contain abrasives which may removes some surface stains but make the teeth sensitive in the process. If whitening toothpastes would have worked, everyone would have pearly white teeth. The safest and most effective way to whitened teeth is in a reputed dental clinic under the supervision of a dentist.