Consultant Doctors
Dr. Arjun Dhiman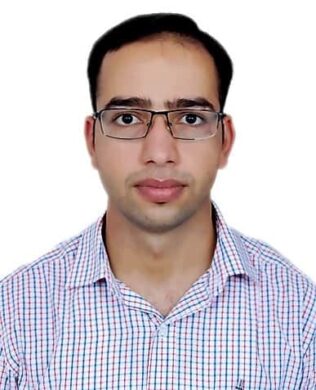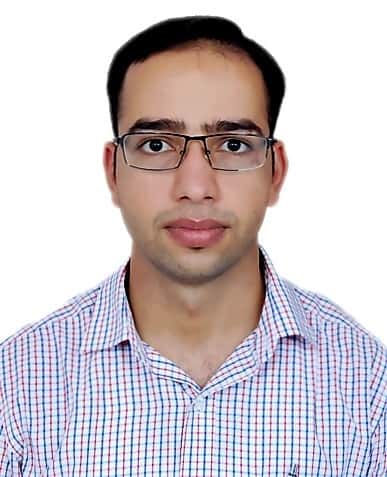 Implant Specialist
Dr Arjun Dhiman is our Implant specialist. He graduated from Govt. dental college PGIMS, Rohtak, Haryana and did his masters from All India Institute of Dental Science (AIIMS), New Delhi. His all India rank in AIIMS was No.1.
His thesis topic was addressing his favorite area of interest 'Immediate Implants.' He was awarded for the best paper presentation award on 'Implants.'
He specializes in
All on 6 implants
All on 4 implants
Ridge split
Direct/ Indirect sinus lift
Immediate Implant
He has undergone special training and courses in the following implant systems
Nobel Biocare from Sweden
Ossteum from Korea
Dr. Ankit Gupta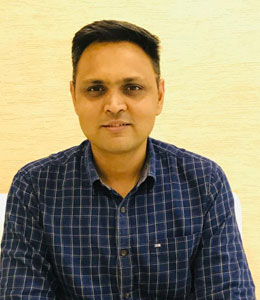 Prosthodontist / Crown and Bridge Specialist
Dr. Gupta did his MDS in Prosthodontics and has 15 years experience. His favorite procedure is performing 'Smile Makeovers' using all-ceramic crowns and veneers._He has delighted many patients from across the globe. Dr. Gupta's patients experience significant improvements in their confidence and quality of their personal and professional lives.
Some of these cases can be viewed in the picture gallery of our website. Dr. Gupta pursues personal development in his work, and is constantly innovating and learning new ways of performing treatments. Dr. Gupta is an expert in full mouth rehabilitation using fixed and removable prosthesis, including cases, with traumatic overlap, lost vertical dimension and developmental defects (like amelogenesis imperfecta), soft tissue ridge augmentation, using connective tissue graft to rehabilitate anterior esthetics, and so on.
Dr. Randhir Kishore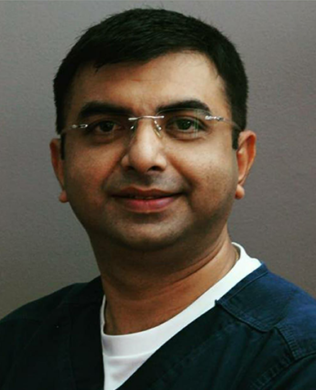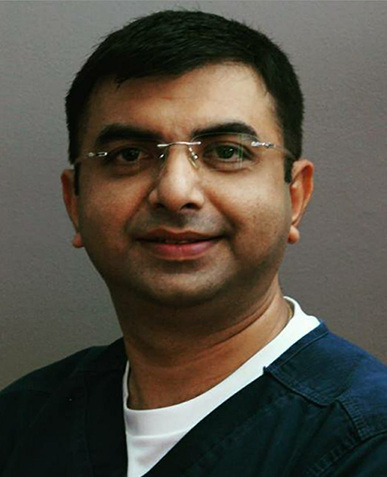 Root Canal Specialist
(Endodontist)
Dr. Randhir Kishore is our root canal specialist (Endodontist). He specializes in the diagnosis and treatment related to the infected nerves of the teeth. Having graduated from 'Manipal College of Dental Sciences' (MCODS), he was awarded the best intern.
Dr Randhir got trained
In the USA, Houston Texas for 2 years under the esteemed Dr. Erowele Darlington.
Subsequently, he specialized in microscopic endodontic treatment under the tutelage of with Dr. Amber Ather.
An expert in 'single sitting root canal treatments,' he uses the latest motorized technique.
His other specialties are
Re- root canal treatments
Broken instruments retrieval
Hemi sections
Root resorption cases
Endo surgeries like
Apicectomy
Treating traumatically injured teeth.
He has a holistic approach while treating the patient and is very gentle. His primary goal is patient's utmost comfort and care.
Dr. Rajesh Gandhi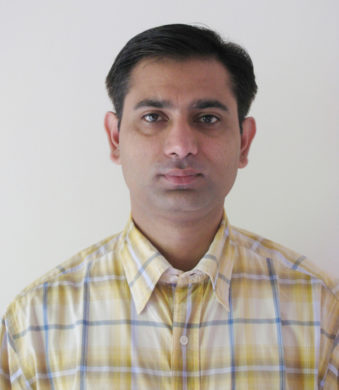 Orthodontist
Dr. Rajesh Gandhi is a specialized orthodontist with an experience of around 20 years. He has a special interest in early intervention orthodontics so that comprehensive treatment can be minimized. He has been trained by some of the most recognized and respected teachers like Dr. Rafi Romano in lingual orthodontics, Dr. Sadashiva Shetty in contemporary pre-adjusted edgewise appliance, Dr. N.R. Krishnaswamy in functional jaw orthopedics and many more.
Has done post-graduation from the prestigious A.B. Shetty Memorial Institute of Dental Sciences, Mangalore.
He has a vast experience of teaching postgraduates since 2005.
He's been an external examiner at various universities. He has guided several postgraduates in their dissertations.
With this vast experience and exposure, he strives for the ideal treatment results in all his patients.
He's a certified Invisalign provider, catering to the most demanding cases with spectacular results.
Together with our other doctors, he formulates an individualized treatment plan for all the patients.
Dr. Hema Agrawal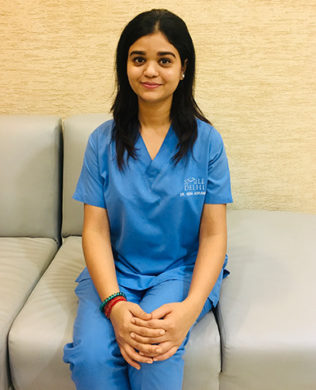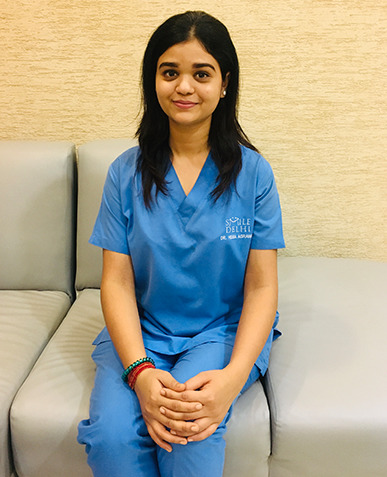 Associate Dentist
Dr. Hema Agrawal is our full time Associate Dentist at Smile Delhi. She is competent and diligent. She completed her BDS from Buddha Institute of Dental Sciences and Hospital, Patna, Bihar. Having a vast clinical experience she conducts various dental procedures like root canal procedure, teeth whitening, teeth scaling, teeth filling and extraction with patience and confidence.
Always found with a warm smile on her face, she strives to make her patients' dental experience a pleasant one. Being passionate about dentistry she keeps herself updated with newer technologies by attending various dental workshops and conferences consistently. Her forte is that she is very gentle and calm in dealing with patients who are anxious and have their first visit to dental office.
Dr. Aashwiin Miglani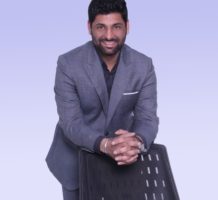 Gum Specialist
(Periodontist)
Dr. Aashwiin Miglani is our gum specialist (periodontist). He has done his masters in periodontology from Bharati Vidyapeeth University, Pune.
He is the key opinion leader for
CSM Dental Implants
Perio faculty at the Institute of Dental Excellence and Aesthetic institute of India.
Dr. Aashwiin is also the 'Clinical Applications Head' for Deppeler Swiss Dental Instruments and is trained at Bern University for the same. He also holds a Fellowship from the Academy of Oral Implantology.
He displays a keen interest in Micro-Perioplastic surgeries and has many publications to his name as well.
He is also a trained LASER dental surgeon and uses this technique for
Gum Depigmentation/ Bleaching
Gum Contouring
Treating Gummy Smiles
Frenectomy
Curettage
Flap Surgeries.
Dr. Anshul Jain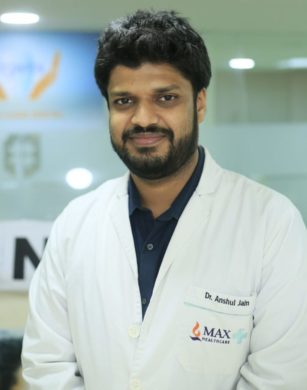 Oral Maxillofacial Surgeon
Dr. Anshul Jain is our oral maxillofacial surgeon. He graduated from Subharti dental college and did his masters from ITS dental college.
He is associated with
Narendra Mohan Hospital
Rajiv Gandhi Cancer Institute and Research Centre.
Max super speciality hospital, Vaishali in department of Head and Neck
oncology
He has achieved ICOI (Spain) and completed CTCS course certified from Gujarat University.
Dr Jain specializes in
Cranio maxillofacial trauma
Dento alveolar surgery
Cleft lip and palate
Dental lasers
Wisdom tooth Impactions
Orthognathic surgery
Onco surgery
Dr. Neha Bhati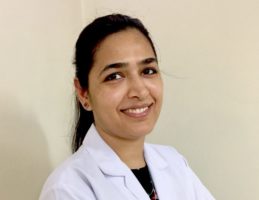 Kids Specialist
(Pedodontist)
Dr. Neha Bhati is our Kids specialist (Pedodontist). She completed her masters from Krishna dental college, Ghaziabad.
She has presented:
3 papers, 2 posters and published 3 papers in international and national dental journals.
Authored 2 books published by Lambert Publication, Germany.
Attended 14 CDE's and 8 conferences for enhancing dental skills.
Attended hands-on "lasers in pediatric dentistry" held at AIIMS
Certified with "Inhalation sedation" by Dr. Srinivas Namineni at Sri Sai College of dental surgery, Vikarabad.
She is a confident communicator who is good in patient handling skills, especially in child management and behavior modification.
She has specialized in dental treatment for children including:
Caries prevention
Restorations
Root canal treatments
Apexification
Apexogenesis
Preventive and Interceptive orthodontics
SS crowns
Zirconia crowns
Post and cores
Behavior management and modification
Conscious Sedation
Pharmacological behavior management
Lasers in pediatric dentistry
Minor surgical procedures in pediatric dentistry
Management of traumatic injuries in pediatric dentistry
Over the past decade she has developed skills to ensure that both kids as well their parents are completely satisfied with the treatment of any dental or oral health issue.
Dr. Tarun Giroti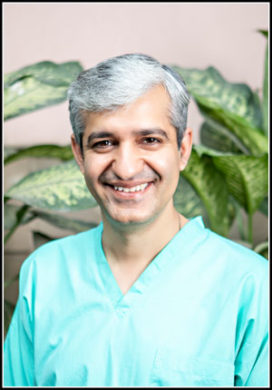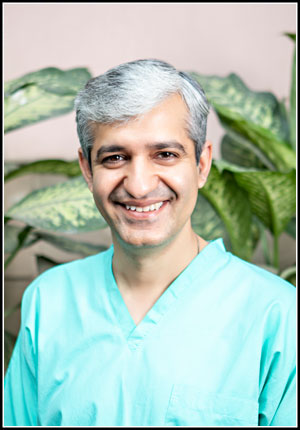 Implant Specialist
Our implant specialist Dr Tarun Giroti is one of the pioneers of dental implants in the country.
Having an experience of 22 years, he is a key opinion leader and speaker for Alpha Biocare Implants. He has done various national and international courses from US, Israel, Japan, Australia and Lisbon in implant dentistry. He has done advanced training for "All On Four Implant Technique" and "Zygomatic Implants" from Lisbon. He has done more than 24,000 implants till date. Dr. Giroti is well versed with the leading implant systems viz…the Nobel Biocare, Bredent and Ankylos, Alpha Biocare.
Dr. Giroti, a highly decorated member of the dental fraternity is a Member of the Royal Society of Medicine. He is a most sought-after international speaker on various subjects and topics. He has many publications under his belt. His positivity and affable chair side manners stem not only from his experience of over two decades but also his spirituality that motivates him to serve his patients with the best care possible. Dr. Giroti has only one primary goal for himself — the patient's utmost comfort.
Dr. Jinendra Jain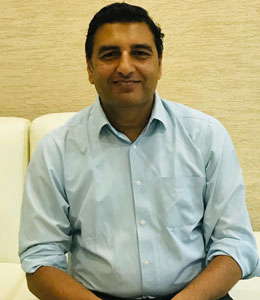 Oral Surgeon
Dr. Jinendra Jain, is our oral surgeon. He did his MDS in Oral Surgery and has 21 years experience. He is an expert in wisdom teeth extractions, as well as small surgeries of the mouth such as tumors, cancers, cyst removals, fractures of the jaw, temporomandibular joint disorders and management, management of maxillofacial infections and facial deformities. Dr.Jain has a calm and courteous approach to his work which makes patients feel at ease. Many patients report Dr. Jain's expertise and work is effortless and his procedures are smooth.
Dr. Jain has an in-depth knowledge as well as a teaching experience of more than 10 years at the undergraduate and postgraduate level. His involvement in academics keeps him passionately involved in research, and he also keeps himself abreast with the latest developments in the field of oral surgery in terms of treatment procedures as well as materials used.
He is also adept at removable prosthesis, including complete dentures, cast partial dentures and flexible dentures. Dr. Gupta has also been teaching for 10_years at undergraduate and postgraduate level. Dr. Gupta's ongoing academic connections help him to keep up with the latest developments and research in this field.
Dr. Udayan Gupta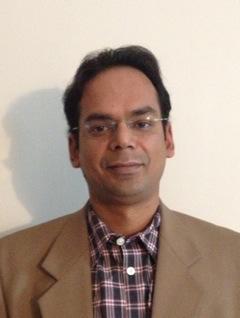 Periodontist/BDS, MDS/Professor ITS Dental College
Dr. Udayan Gupta has done his BDS from GDC, Amritsar in 1997 and MDS in periodontics from Bapuji Dental College, Davangere in 2002 under the guidance of Dr. D. S. Mehta.
After completing his Masters, he joined Subharati dental college, Meerut as a senior lecturer. Subsequently, he did his senior residency from GTB Hospital, Delhi. In 2005, he joined ITS dental college, Ghaziabad where he continues to work to date as a professor.His interest has been surgical periodontics and he has developed a strong visiting practice among the various renowned private practitioners of Delhi. He is also working as a visiting consultant at Indraprastha Apollo hospital since 2009. He also visits Fortis Escorts hospital and Primus Hospital as a consultant periodontist. He has numerous publications in national and international journals and has also presented his work at various forums as an invited guest speaker. He has also conducted many teleconferences on behalf of IGNOU. Recently, he conducted the National ISP PG Convention at Greater Noida, where he was the scientific convener.