Here are 5 Reasons, Dental Treatments Fail.

1. Getting cheaper dental treatments to save some pennies.
Health is so precious that it is priceless. We all  want to save money. However the value of Good health (whether the body's or mouth's) , can't be measured in terms of money. The appeal of saving money for every single dental procedure is tempting. When doing so, people do not realize that this is extremely risky, as the quality of treatment lands up being substandard . You may cut down your costs but just think about the pain and suffering that may follow due to the failure of the treatment
Most of the people take the risk of not going to dental specialists when they are in need of specialized care.The reason is care by dental specialists costs a bit more and they want to save money.
The truth is, there are 8 dental specialists
Endodontists for root canal treatments.
Periodontists for gum treatments.
Orthodontists for braces treatments and clear aligners treatment.
Oral surgeons for wisdom teeth extractions etc.
Prosthodontists for crowns and bridges treatment and dentures.
Oral pathologists for diseases which affect the mouth ie lips, cheeks , tongue etc.
Implant specialists for dental implants treatment.
Paedodontists to take care of dental treatments in children.
These specialists go through extra years of education in college and intensive practical training in their fields of specialization , that prepares them to do precise procedures without mistakes.  They keep themselves abreast with the latest developments in the techniques, equipment and materials of their fields in a very focused and consistent manner. The treatment through specialists costs a little extra,  however the value it provides is well worth it.
Unfortunately there is no standardization in dentistry. Some dental clinics lower the cost of the treatments to rope in the patients and thus use cheaper materials and laboratories which ultimately leads to failure of dental treatment. India doesn't produce any dental materials so any best dental clinic in Delhi like 'Smile Delhi-The Dental Clinic' uses global standard materials from Europe or USA.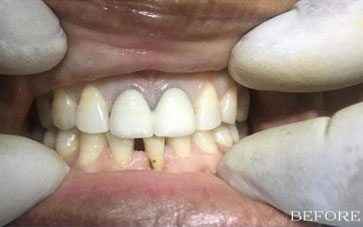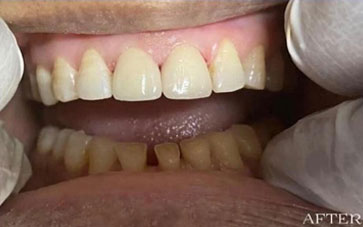 So you must take time and make an informed decision to find the right professional. This way, you can be assured  of quality dental services with a high success rate. Reputed clinics like 'Smile Delhi-The Dental Clinic' is one of the best dental clinics in Delhi; they have all the dental specialists; use standardized materials and good laboratories to ensure success of the treatments.
2. Improper treatment planning.
The purpose of a treatment plan is to guide a patient towards reaching their desired goals through a systematic step by step road map. It not only allows patients to understand their short and long-term dental care needs but is also designed to prevent small dental issues from getting bigger and more expensive.
Each patient is as unique as a fingerprint and so the treatment plan for every individual is also customized specifically to that patient. There are various treatment options for a single dental problem. A treatment which is successful for one patient may not suit the other. For example one patient with crooked teeth may be the right case for Invisalign treatment while another may need ceramic self ligating braces.
Every dental clinic has its own way of operating and treating patients and thus may differ in what information they deem necessary to create a good treatment plan. A good treatment plan is the first step to a successful treatment.
For proper diagnosis and  treatment planning, the expertise of the dentist counts  in a Big way. A good dental treatment plan will leave patients confident with the dentist they have selected for their dental treatment. For this a comprehensive consultation and treatment planning is a must . We at Smile Delhi-The Dental Clinic , pride ourselves for comprehensive  consultations,  where we give enough time to the patient,  to make him/ her  understand his dental problems, their treatment options and the cost and time estimates for the same.
Since most people want to save money they are unaware that they are risking their own health for it. As it's from the mouth all the bacteria travel to the body through the gums and create other problems like heart diseases ( Sub Acute Bacterial Endocarditis)etc.
One must clearly know and understand these before starting or finalizing the treatment:
What treatment is recommended?
Who will be performing the treatment?
How much will it cost?
How long will it take to complete?
Is the treatment possible with an underlying medical condition?
It is also important for a dentist to be clear and thorough at the consultation, so patients don't leave feeling confused. Confused people tend to make the wrong decisions which can lead them to suffer in future.
3. Delaying dental treatments.
The health of your smile is linked to your overall health. The mouth is the gateway to the rest of your body. Patients are more likely to forego dental care,  until they are not suffering from pain.
All dentists recommend six monthly checkups and regular dental cleanings, that removes bacteria and tartar that doesnot go with regular brushing. Regular checkups allow your dentist to diagnose and address dental issues that could affect your whole health.
Unlike medical conditions where symptoms come first and the damage occurs later, the dental conditions are silent for a long time ;  here the damage occurs first and then symptoms occurs. Delaying the treatment increases the degree of the dental ailment; more extensive treatment is required which will cost you more money. Eg if the dentist has pointed out a cavity/ caries/ decay,  even if it's not giving any symptoms of pain or sensitivity the cavity will keep getting deeper and eventually hit the nerve of the tooth. At that point the tooth needs a root canal as the filling won't be enough, since the nerve has  got infected . Dental problems start small and then grow. The bigger or more complex a dental issue is, the more painful and costly it is  to treat.

4. Sterilization and Hygiene protocols not followed.
 Dental sterilization practices in dentistry protect patients, dentists and the whole team from infections . It plays a vital role in determining the success of the treatment. These practices prevent the growth of bacteria on instruments and surfaces and provide hygienic conditions for the procedure to be carried out.  It is very important for the procedures as improper sterilization practices can make you really sick, and they can also create serious complications if you have any preexisting medical conditions, which is why the dentists and dental assistants take so many precautions.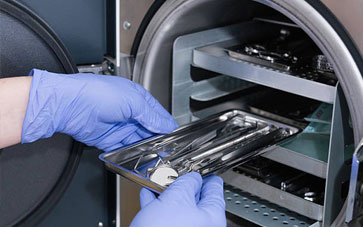 Whenever you visit your dentist you must notice the following:
How clean everything is?
Does the dental assistant unwrap sterilized instruments to give to the dentist?
Do they make certain that everything used during an examination is disposed off properly in biohazard bins?

5. Post- operative instructions not followed by the patient.
Proper healing after any dental procedure is absolutely essential, which is why we have put together post-operative instructions for various procedures. Postoperative care begins immediately after the dental procedure,  to ensure the success of the dental treatment. Post-operative instructions are important because if they are not followed, then it can lead to many complications.
The Importance of Following Pre & Post-Operative Care Instructions
Avoid complications during and after the dental procedure.
Prevent discomfort or infection after treatment.
Improve success rate of procedures.
Reduce pain for the patient.
Various dental treatments like Dental implant treatment in Delhi, single sitting root canal treatments , teeth whitening procedures, all ceramic crowns , veneer treatment in Delhi are possible with high success rates if the proper expertise, proper sterilisation and proper materials are being used .
We at 'Smile Delhi- The Dental Clinic' are here to help you. If you have any  questions or need help following any dental treatment (even if we did not perform your treatment), please don't hesitate to contact us. We will be happy to help.
To book an appointment with us in, 'Smile Delhi- The Dental clinic'– call us on +91- 9811106871 or whatsapp Dr. Suprriya B Bhatia on +91-9811106377. You can also mail us on info@dentalclinicdelhi.com
We Care To Make You Smile.
Posted by: Dr Sonam