What are dental veneers?
Dental veneers are wafer-thin, custom-made shells of tooth-colored materials designed to cover the front surface of teeth to improve your appearance. These shells are bonded to the front of the teeth changing their color, shape, size and length which improve the aesthetics of a smile and protect the tooth's surface from damage.
Why do I need dental veneers?
Veneer is a popular treatment for smile makeovers or individuals who want their dream smile.
Dental veneers are a great solution for people with:
They transform your smile and appearance. Veneers are able to correct several issues at once, including:
Chipped teeth
Superficially cracked teeth
Stained teeth
Short teeth
Gaps between teeth
Worn teeth
Discolored teeth
Misaligned teeth
Oddly shaped teeth
Uneven teeth
What are the advantages of dental veneers?
Veneers make teeth look natural and healthy. Because they are very thin and are held in place by a special, strong adhesive, very little preparation of the tooth is needed
The preparation of veneers preserves the most amount of tooth structure, as very little needs to be removed. They can improve the appearance of your teeth, and gum tissues respond well to dental veneers. The color can be custom selected, and in the case of porcelain veneers they are stain resistant.
How many appointments are required for veneer treatment?
A veneer takes two visits. In the first visit, tooth preparation is done and then the shade is selected. In the second visit the veneer is bonded to the tooth. Before bonding it in place, your dentist will show you the veneer on your tooth to make sure you are happy with it. Bonding a veneer in place is done with a special adhesive, which holds it firmly on the tooth.
How many veneers do I need?
A consultation is needed to determine how many veneers are required or if veneer is the best option for you. It is wise to have an even number of veneers: two, four, eight, ten or twelve veneers to give the best aesthetic results.
How do I get veneers to match my other teeth?
Most people get their veneers in a whiter shade than their natural teeth and then undergo tooth whitening of the rest teeth to create an aesthetic match. This factor is discussed during your evaluation and smile design so that all teeth match and blends well with the other teeth. Most patients usually whiten the lower teeth with whitening (bleaching) procedures to ensure a good match.
Does the process hurt?
The veneering procedure is done under local anesthesia. There is no pain during the procedure once numbness takes effect. In case the patient experiences any soreness it can be alleviated with over the counter medications.
How do I care for my veneers?
You must take care of the veneers just as you would take care of your natural teeth by brushing twice a day, flossing and seeing your dentist regularly. No special care is necessary for maintaining your veneers. Brushing two times each day for two minutes, flossing daily, and wearing a mouth guard at night are great ways to protect the veneers. It is also advisable to avoid eating very hard foods like almonds, or cracking shells with the veneers. If you take good care of your veneers, they will last you longer.
Can I brush and floss my teeth after veneers, and do I still have to come for professional hygiene appointments?
Yes! You can brush all your teeth the same way as your natural teeth. You can floss all the veneered teeth and you should continue your regular dental appointments as you have in the past. Professional cleanings every 6 months and yearly exams are highly recommended.
How long do dental veneers last?
The expected lifetime of a porcelain veneer is somewhere between seven and 20 years. In case a veneer comes out/off, it can be rebonded. If it chips it can sometimes be rebonded or otherwise replaced. While the veneer itself is inert and non-living, the teeth to which they are attached and the surrounding gum tissues are living and may change. For example, gum line shrinkage may expose or reveal root surfaces.
Do porcelain veneers stain with tea, coffee and wine?
Coffee, tea, red wine and other foods do not stain veneers as they do real teeth because unlike tooth enamel, porcelain is not porous. The porcelain veneers never stain; however; if your natural teeth have a tendency to stain you should try to avoid or minimize the behaviors that lead to staining and look after them as recommended above with normal oral hygiene and maintenance procedures.
Here is a recently done case of Ceramic Veneers in Delhi at "Smile Delhi- The Dental clinic."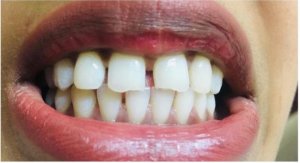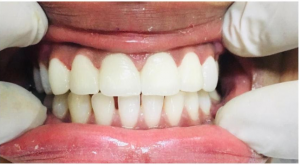 At" Smile Delhi- The Dental Clinic" we are routinely doing smile makeovers with veneers for our patients since last 18 years. A good smile adds hugely to a person's confidence and leverages their personal and professional life. As a result of getting this, patients have gone from being depressed and under confident to happy and confident individuals. Some patients have found jobs, got promotions, found partners in their lives.
If you are looking for solution for your dream smile or have any queries regarding your smile design call us on, "Smile Delhi- The Dental clinic"- 011 4051 8978/ 9811106871 or whatsapp Dr. Suprriya Bhatia on +91-981106377 to book an appointment, we are there to help.
Posted By – Dr. Sonam