A beautiful smile is considered as one of the principal components of beauty. The appearance of your teeth has a remarkable effect on your self-esteem and confidence and at the same time, it makes you look younger and attractive.
Have you ever found yourself hiding your smile because of discolored, chipped, or crooked teeth? Well the solution to your above problem is 'Dental Veneers'. A Dental veneer is an aesthetic dental procedure and a state-of-the-art solution through which you can enjoy pearly-white teeth and a confidence boost to put your smile in full view.
Choosing to have dental veneers placed is the first step to improving the aesthetics of your teeth and getting that winning smile you have long awaited. Determining what material to go with is the second step.
The Best dental clinics in Delhi primarily offer two types of dental veneers:
Porcelain/Ceramic veneers
Composite veneers
In the hands of an experienced cosmetic dentist, both materials can beautifully transform your smile. But how do you know which type is right for you?
This comes down to your specific needs and which factors are most important to you (cost, treatment time, etc).
Let us briefly understand about porcelain and composite veneers.
Porcelain / Ceramic Veneers
Ceramic veneers are thin shells just similar to false finger nails (but for teeth). They are custom made to fit directly over your teeth and are usually made in labs. Porcelain veneers create a very life-like and natural tooth appearance. They not only can change the shape, size and color of the teeth but also align the teeth properly and provide strength and resilience comparable to natural tooth enamel.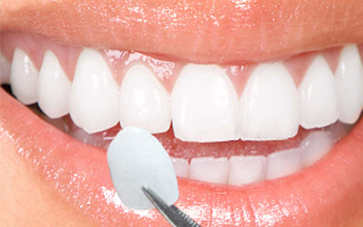 Advantages of Porcelain Veneers
Porcelain has a translucent quality that is quite similar to tooth enamel, so is very life like.
It is also highly resistant to staining and chipping due to the strength of the material.
Porcelain veneers offer a great treatment solution for all cases of chipped enamel, wear and tear, genetic defects, uneven teeth, etc.
They are more durable.
Composite Veneers
Composite veneers are made of resin which closely resembles natural teeth in color. Modern composite materials provide a life-like, beautiful appearance that is non-destructive to the tooth structure and can last for a long time.
When opting for composite veneers, a tooth colored filling material is matched with your natural tooth shade and is applied in layers to the tooth surface and sculpted directly in your mouth to achieve the desired aesthetic appearance.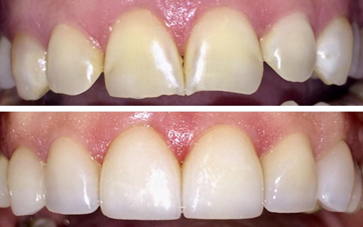 Advantages of Composite Veneers
Composite veneers are used in situations in which there is chipping or discoloration of natural teeth.
Composite masks only slight dental misalignments, discoloration and chipping, and it fails to correct serious problems or fill big spaces between teeth.
The composite veneer can be fabricated while you wait as they are sculpted on your teeth rather than in an offsite lab making it a same-day treatment.
The composite procedure tends to be quicker than porcelain.
LET US NOW DRAW A COMPARISON BETWEEN PORCELAIN AND COMPOSITE VENEERS IN A NUTSHELL.
Deciding on which technique suits you comes down to a different set of criteria.
COMPARISON BETWEEN PORCELAIN AND COMPOSITE VENEERS
Porcelain veneer or Composite veneer … What is the Verdict?
At the end when it comes to decision making, the only way to determine whether a porcelain or composite veneer solution is right for you, is to consult your dentist about your aesthetic goals and to weigh your personal considerations.
In other words, it is up to you to decide:
What is most important to you?
If you're looking for the most cost-effective solution, then a composite veneer treatment plan will probably be a good fit.
However, if you have a severe aesthetic concern, or you are looking for the most natural and durable treatment solution, then porcelain veneers will give you a fantastic result.
Regardless of which material you opt for in the end, you can rest assured that both offer fantastic smile enhancement.
Veneers can be very effective when it comes to correcting teeth that are crooked or badly shaped, teeth that are broken or chipped, and teeth that are spaced too far apart. Both types can give you a beautiful smile.
Learn more about how porcelain or composite veneers could benefit you by booking a consultation at 'Smile Delhi- The Dental Clinic'.  If you are still unsure which method works best for you, do not worry! Our consultants will help you make a wise decision.
Dental veneer treatment in Delhi has now become a popular treatment with the patients. Ceramic veneer cost is also reasonable considering the value it adds to one's personal and professional life. The materials used here are the same used in western countries.
The overall cost of the various dental treatments in India is very less as compared to the total cost of the same treatments in many of the developed countries. So, the patients make sure to save their overall treatment costs by choosing India as a hub of dental tourism.
To book an appointment with us in, 'Smile Delhi- The Dental Clinic'– call us on +91- 9811106871 or whatsapp Dr. Suprriya B Bhatia on +91-9811106377. You can also mail us on info@dentalclinicdelhi.com
Posted by: Dr Sonam