Smiling is one of the warmest and natural reflexes in a human body. It opens up strangers to each other and lights up the mood of the smile receiver. Smiles are contagious and relieve stress. They have an extensive list of good qualities. However, it is possible to be dissatisfied with your smile. You may not be comfortable with the appearance or shape of your teeth, which ends up affecting your smile.
We have experts at 'Smile Delhi – The Dental Clinic in Delhi', who have experience with teeth and smile design. We offer different treatments, which help improve the way you smile. We know how important it is to have your unique smile, so we strive to preserve individuality in your smile. We start with a complete oral evaluation before proceeding with advising solutions.
There are different things you may want to change about your smile.
Things you can look for in your mouth to change can be:
Discoloration
Chipped, breaks and holes in teeth
Gaps brought about by missing teeth
Malaligned/ Crooked teeth
Unappealing smile
Here are five solutions that we offer in 'Smile Delhi – The Dental Clinic', which could drastically change your appearance.
1. Brighter Smile 
You may have the most beautiful smile, but over the years, your teeth may have lost colour and have become yellow. Yellowing may have been brought about by aging, medications, genetics, smoking or more. Our dental experts in Smile Delhi, have worked hard to improve our teeth whitening systems.
Teeth whitening treatments use bleaching gels that help to lift stains and remove discolouration from the surface of your teeth. You can receive the treatment in a dental clinic.
Also, it's very necessary to consult your dentist before getting any teeth whitening product and try DIY. Your dentist will examine your mouth during your appointment and tell you whether whitening would be right for you or you require some other treatment. Bleaching isn't effective on all types of discolorations, and your discolouration might be caused by a more serious underlying issue that needs to be treated first. That's why it's important to talk to a dentist even if you intend to use an over-the-counter treatment.
We have the solution to yellow teeth; Zoom Advanced Teeth Whitening Method which is very effective and thus popular. The Zoom method releases nascent oxygen from the surface of the teeth while leaving it brighter. There is a 6-8 shade improvement in your teeth in just an hour. If you are in and wish to find out more about Zoom, call us on 9811106871 today and book an appointment.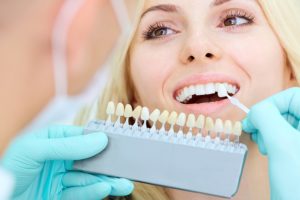 2. Porcelain Veneers
We offer Porcelain dental veneers in 'Smile Delhi – The Dental Clinic', to those who want to instantly transform their broken smiles. Your smile may not make you happy because of chips, worn out enamel, fractured teeth, discolorations and many other flaws. Our experts at 'Smile Delhi- The Dental Clinic' in New Delhi will give you your desired 'dream smile makeover' in just 4 days.
The art of 'beautifying smiles' lies in the dentist's ability to integrate the individual's desires of a perfect smile with what he or she considers necessary to be aesthetically pleasing.
With a professionally trained and experienced eye, your dentist will actually see more dental possibilities than you do.
To find out more book an appointment with us at 9811106871.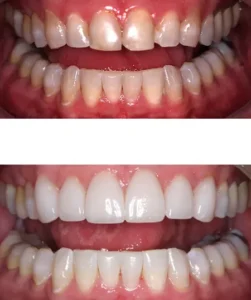 3. Gum Bleaching
A beautiful smile is normally associated with the pearly whites. We may, however, have noticed the important role that good looking gums play to achieve that beautiful smile. Dark gums can make or break the appearance of the perfect smile. Here in, we offer nothing but the best in dental treatment. Gum bleaching has become very popular in recent days.
It is also referred to as dark gum treatment or gum depigmentation. We are committed to ensuring that the dark gums, which you find unattractive, are rectified and lightened to leave you feeling better about yourself. We do this by using our specialized technique of lasers which is bloodless and quick. It brightens dark gums leaving them pink and beautiful.
If you are unhappy with your gums; call us at 9811106871 at 'Smile Delhi – The Dental Clinic' New Friends Colony in New Delhi to schedule an appointment.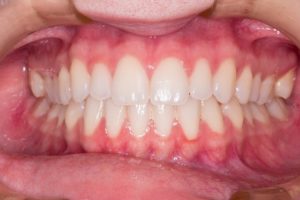 4. Aligners
Are crooked teeth keeping you from loving your smile? Then Invisalign or Clear Correct which is offered by our Smile Delhi experts is the way to go. It's an alternative to metal braces for bite irregularities. The aligners lack brackets and wires. They straighten teeth through the gradual process of successive replacement until the treatment is complete.
Aligners are loved for its virtual invisibility, health benefits, and convenience during treatment. Looking for an aligner specialist in South Delhi? Schedule your complimentary dental consultation by calling us at 9811106871 at 'Smile Delhi – The Dental Clinic'.
If you choose the Invisalign or clear correct route with us, you will find the process convenient, comfortable and supportive to oral health when you compare it to traditional braces. The aligners are removable and you can brush or floss your teeth as usual once you remove the aligners. Are you interested in Invisible Braces to give yourself a new smile?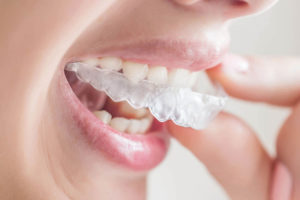 5. Dental Implants
Teeth were meant to last a lifetime. Unfortunately, tooth decay hinders this, and we end up losing a tooth or even worse. Our experts in Smile Delhi in New Delhi know how important is your smile. Thus, we offer dental implants which is the best replacement for missing teeth. We will assist you in determining whether dental implants are for you. They feel and look like natural teeth. This preserves your bone structure and renews your youthful appearance.
The implants look just like your original teeth and can also perform the same functions such as biting, chewing and smiling with confidence. You can also clean your restorations easier because you can brush and floss them just like your natural teeth. Are you a candidate for dental implants? Call us on 9811106871 at 'Smile Delhi – The Dental Clinic' to schedule an appointment and learn more about dental implants.
We have many procedures and treatments at our clinic that are geared towards giving you the perfect smile. We conform to global standards when it comes to expertise, sterilisation and material. If you have an interest in our dental services, call us now and take the first step towards loving your smile.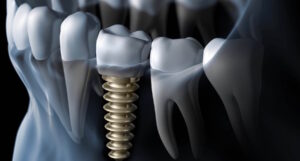 To book an appointment with us in, 'Smile Delhi – The Dental clinic'– call us on +91- 9811106871 or whatsapp Dr. Suprriya B Bhatia on +91-9811106377. You can also mail us on info@dentalclinicdelhi.com
We Care To Make You Smile.
Posted by: Dr Hema