"When I got my dream smile, my life turned around. From an under confident, depressed teenager, I became a happy, young lady who felt like a million dollars and I started loving life. Based on the huge value my new smile gave my life, I decided to add the same to other people's lives by becoming a dentist. For the last 24 years, my team of specialists and I, at 'Smile Delhi' have delighted thousands of patients from 70 countries by giving them their own dream smile… "Dr Suprriya"
Do you find yourself too feeling under confident and unhappy when you smile because of irregular/missing/chipped or yellow teeth? Have you mastered the art of dodging selfies and smiling with your lips pursed at social gatherings; because you lack that perfect smile?
It's time to smile again because smile is the first thing you notice when you look at photos of friends and family on social media. Experts at 'Smile Delhi – The Dental Clinic' in New Delhi can help you with choosing the best treatment option for Smile Makeover with you. With decades of experience in helping people across the globe, who have achieved beautiful, healthy and strong smiles through high quality and personalized services.
Use the query form on our website or call 'Smile Delhi – The Dental Clinic' today to schedule your one-to-one consultation and learn more.
A smile makeover is a simple cosmetic and restorative treatment, giving you the best smile which you always dreamed of.
There may be several factors impacting your smile viz… chipped/fractured tooth in smile line, missing teeth, irregular/misaligned teeth, yellow/discoloured teeth, dark gums, gums in between front teeth, gummy smile and many more.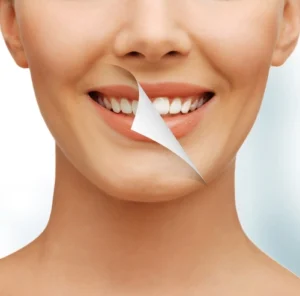 A Smile Makeover Includes
Cosmetic dentistry designed to improve the appearance of the teeth and gums such as
Porcelain veneers
Teeth whitening
Gum depigmentation
Corrective dentistry such as
Invisalign
Teeth coloured ceramic braces.
Restorative dentistry services including
General dentistry services such as
Tooth cleaning and gum therapy
Tooth-coloured fillings
Each smile is different, impacted by issues as diverse as genetics and lifestyle choices. Important is that every smile makeover is completely customized to address the specific concerns of the individual. During your initial consultation, we at 'Smile Delhi' will carefully assess your teeth and gums, discuss all of your treatment options based on your expectations and logistics to create a plan that will us help produce the best results you deserve.
What 'Value' does a Smile Makeover add to your Life?
"It's heart breaking when people tell us they are embarrassed to smile."
It's never too late to give yourself a smile makeover.
A Smile Makeover can bring help you resolve the following issues:
Teeth Colour: If the teeth have changed their colour or become stained/yellow due to aging, altered dietary intake/bad habits such as black tea/coffee/smoking etc..
Teeth Shape: Tooth can also be masculine or feminine. By matching them to the respective personality confidence level are hugely leveraged.
Alignment: Crooked or misaligned teeth can be straightened and aligned correctly with orthodontic treatment such as Invisalign or braces to give you that perfect smile.
Uneven Spacing: Uneven gaps between the teeth can be corrected with ceramic veneers.
Missing Teeth: Missing teeth can affect the appearance of the smile and cause oral health issues. Lost teeth can be replaced with dental implants or bridges depending on the underlying bone condition/oral hygiene and health of adjacent teeth.
Chipped or Fractured Teeth: We can improve the appearance of chipped or cracked with all ceramic veneers.
Tooth Length and Gummy Smile: A short tooth with overlapping gums can be reshaped and lengthened with appropriate proportion to the gums with procedures as gum contouring and veneers.
Smile Makeover can be done through various procedures:
Veneers – These are porcelain coverings on front surface of the teeth.
'Smile Delhi' is successfully meeting the expectations and needs of patients from across the globe, through the most effective method of transforming smiles i.e., ceramic veneers and crowns. India does not manufacture any dental material, so we use the best ceramic available worldwide. We use Emax veneers and Zirconia crowns. One must understand that covering the teeth with ceramic veneers or crowns is not just about beautifying them, also protecting them as they get reinforced, especially if they are aged teeth.
It is a very conservative approach. The impression is done on day 1 (it takes about one to one and a half hours) and the fitting of the crowns and veneers is done on day 4 (which takes about 1 hour). In the interim period between the two sittings temporary crowns/veneers are fitted. It is a completely safe procedure and the integrity and strength of the teeth are maintained as we do not touch the roots of the teeth which are strongly embedded in the underlying jaw bone. These crowns/veneers last as long as the underlying natural teeth are intact. Thanks to the latest materials and equipment, in just 4 days a person's life can be turned around.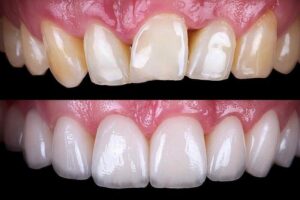 Implants – The best replacement for a missing tooth.
A dental implant is basically a titanium screw, which is placed in the jaw bone to replace the root of a missing tooth. The process of performing a tooth implant is quite technique sensitive and should be done by only highly qualified and experienced dental implant specialists in India. We consider an implant the best replacement for a missing tooth because:
It is the most conservative replacement for a missing tooth, as the adjacent teeth are not touched.
It is the only replacement for a missing tooth which stabilizes the underlying bone.
It is as good as a natural tooth in terms of the efficiency of chewing, looks and ease in speech.
If maintained by the patient, the implant can last a lifetime.
Invisalign – Clear aligners used to straighten teeth
Invisalign utilizes a set of smooth, comfortable, removable and virtually undetectable thin, lightweight trays, which you wear over your teeth. These aligners gently move or shift your teeth to achieve the ideal position, as well as improve your smile and oral health.
Teeth Whitening – Whiter brighter teeth in just an hour.
We use Zoom Advanced teeth whitening system which is one of the best and efficient systems available worldwide. It has been a very popular cosmetic dental procedure in our clinic for teeth whitening. It is perfectly safe. Patients feel so much more confident, and the quality of their personal and professional lives improves a great deal.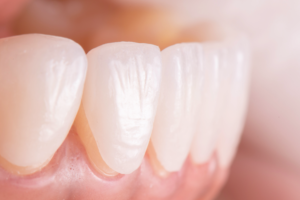 Gum Depigmentation and Gum Contouring
Do you ever worry why your gums are so dark and unsightly? Can anything be done about it?
Dark or black gums are the result of an excess of the pigment called melanin, which is also responsible for the color of the skin. Dark colored people have more of melanin in their skin similarly people with dark gums have more melanin in their gums. The good news is this can easily be treated by a simple procedure called 'Gum depigmentation/gum bleaching.'
Laser method is a new modern method where the laser is used to remove the surface layer of the gums which has the maximum amount of melanin, the pigment responsible for the dark color. The result is pink and esthetically appealing gums. This method is quick and easy for the patients as it is bloodless and painless. We are routinely conducting this in 'Smile Delhi – The Dental Clinic' and have satisfied, happy patients from across the globe. This is a popular procedure with our patients who opt for a Smile Makeover treatment. Gum bleaching adds to the 'wow factor' for patients looking to improve their smiles.
You must have healthy teeth and gums to be a good Smile Makeover candidate. Treatments like root canal therapy, gum disease treatment, and dental fillings will need to be completed before the cosmetic portion of a Smile Makeover can begin. We will take all the time necessary to prepare your teeth and gums for cosmetic perfection, helping to ensure the results from your Smile Makeover, last for several years to come.
If you are wanting a cosmetic smile enhancement or need assistance with a general dental problem, please call at 'Smile Delhi – The Dental Clinic' at 9811106871 to schedule a consultation today. Located in the plush leafy neighbourhood of New Friends Colony in South Delhi, we welcome patients from all across the globe.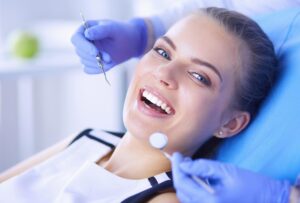 To book an appointment with us in, 'Smile Delhi – The Dental Clinic'– call us on +91- 9811106871 or whatsapp Dr. Suprriya B Bhatia on +91-9811106377. You can also mail us on info@dentalclinicdelhi.com
"We Care To Make You Smile"
Posted by: Dr Hema