The coronavirus (COVID-19) has disrupted the lives of people in many ways. While during this period there are a lot of things we can't do but we can still take care of our oral health.
With dental clinics across the country postponing non-emergency dental treatment, it is even more important than ever to keep up with your dental home care.
The virus primarily transmits through aerosol/droplets, therefore is contagious via direct surface contact once it settles on a surface hence it is important to keep your household as safe as possible by being aware of the potential contamination of objects and areas.
How to keep my teeth healthy during COVID-19?
With most of us working from home and adjusting to new routines, it is easy to put aside our dental health.
In this blog we will share with you few tips to help you maintain your oral health:
1) Brush at least twice a day:
Brush regularly twice a day gently not aggressively.
Whether you are using a manual brush or an electric, soft bristles are essential. Wash your hands, aim for at least 20 seconds before and after any personal dental care
2) Floss once a day and use tongue cleaners:
This helps remove bacteria and plaque in places your brush can't reach. Use tongue cleaners to scrape away excess plaque and bacteria which lead to bad breath. Tongue cleaning also increases your ability to taste better, as it removes dead cells and food debris which layer on the tongue after eating. These congest your taste buds and create a bad taste in your mouth.
3) Limit sugary drinks:
Excessive sodas, soft drinks and fruit juices can harm tooth surfaces. Limit sugary and acidic foods and avoid sugar in coffee and tea. Water should always be the number one choice for hydration. If you had sugary drinks do not forget to rinse your mouth with water.
4) Eat a well-balanced diet :
Limit sticky, sugary snacks like cake and cookies. Most people turn to vitamin C to boost their immune system, but remember excessive Vitamin C is destructive to tooth enamel if chewed or dissolved to make a fizzy drink.
5) Limit frequency of snacking:
Frequent snacking increases your risk of cavities. For most people self-isolating the activity of choice to pass the time is likely to be Netflix and snacks. But do not let yourself fall into the trap of eating excessive amounts of junk food and neglecting your health.
6) Drink water with meals and between meals.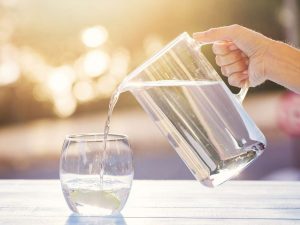 Ensuring you keep hydrated while you are in self-isolation is crucial to maintaining both your oral and general health.
Your body can be more prone to losing fluids when it is fighting off an infection, which increases your risk of becoming dehydrated or having dry mouth. A reduction of saliva in your mouth also increases your risk of tooth decay, this is due to the fact that saliva helps remove food particles and acid which keeps your oral bacteria under control.
Some medications, such as antihistamines and decongestants can also lead to dry mouth, which further increases the need to keep yourself hydrated with water on regular intervals.
7) Avoid smoking :
Smoking limits blood flow to your mouth, making it easier for bacteria to grow.
8) Change your toothbrush regularly
It is important to change your toothbrush at least every three months or perhaps even earlier if the bristles become frayed.
Toothbrushes are prone to accumulating bacteria, saliva and blood. As the droplets that spread Coronavirus are present in saliva, it is crucial to isolate your toothbrush to reduce the risk of spreading the virus to other toothbrushes nearby. You should never share a toothbrush, and also use a separate toothpaste.
Changing your brush regularly also helps prevent the spread of bacteria. If you have had the coronavirus (or suspect that you may have), get a new toothbrush. After you've recovered from a virus, dispose of your toothbrush and use a brand new one, as the old one may carry the bacteria.
9) Never share a toothbrush
No matter whether you are related or how close you are to the people you live with, you should never share your toothbrush with anybody else.
This is one way of the ways that viruses and blood-borne diseases can be caught from other people.
For the same reason, you should make sure that toothbrush heads are also kept apart from each other wherever you and the rest of your household store your toothbrushes.
How to take care of your physical and mental health during quarantine period?
Caring for yourself during a Coronavirus self-quarantine means also not neglecting your mind and body. Continuing with the healthy habits you would during your regular routine is extremely valuable during what can be a stressful time.
For those who regularly have access to a gym to stay fit and active, being restricted to your home can cause distress and an unwelcome interference to your routine.
Some effective self-isolation exercise ideas includes:
30 minutes a day of online yoga
Exercise DVDs
Dancing
Body weight/floor exercises
Online coaching/training plans
Walking around the backyard
Home gym (dumbbells, bench, squat rack, exercise bike, treadmill etc).
Even though these workouts are not quite as high in intensity as those you would normally do even small amounts of exercise are proven to be extremely beneficial treatments for stress and depression.
What should I do in a dental emergency?
Please contact your dentist for guidance. Your dentist can handle many situations over the phone, such as helping with a toothache. If you are unsure about your situation, your dentist will be able to help.
Dental clinics may be postponing non-emergency procedures, but your dentist can still make appropriate arrangements if you need care.
Visiting the dentist: Maintaining regular visits to your dental team will always be important. During this period of uncertainty, it's best to always check before any appointments that you have by phoning ahead. Do not forget the simple day-to-day habits that will help you keep a healthy mouth.
Regular six monthly check-ups and cleans are important for general tooth and gum maintenance. If your appointment happens to be postponed due to circumstances surrounding the COVID-19 pandemic, ensure you reschedule at your first convenience so your dentist can make sure your teeth are in good condition.
In case of any emergency /queries or regarding scheduling your dental appointment with us after the lock-down is over, call us on, "Smile Delhi- The Dental clinic"- 09811106871 or whatsapp Dr. Suprriya Bhatia on +91-981106377 to book an appointment, we are there to help. You can also mail us on info@delhidentalclinic.com.
-Posted by – Dr. Sonam