Recently we had a patient  in our clinic who was not happy with his smile. He had been wanting to go for a "smile makeover" forever. Finally he decided to get this done at our clinic.The trigger was probably his new job, where he felt he was underconfident and thus not able to optimize in his job of selling, which was what he was perfectly well qualified for and also it was his passion. We worked on the upper arch teeth only.The patient  did not want the teeth in the lower arch to be touched , as he was ok with the minor crowding.
The patient  was advised orthodontic treatment as the first line of treatment.  We suggested the clear alligner treatment. However the patient said he had thought through and was clear that he wanted his smile makeover through a crown and veneer combination. We started the treatment by  first doing the scaling and polishing of teeth , followed by zoom bleaching. Then we did all ceramic veneers on the upper lateral incisors and all
ceramic crowns on the upper two central incisors.The material used was ips emax. Within a week the patient had a new smile with his requirements of clean, brighter, whiter and well aligned teeth.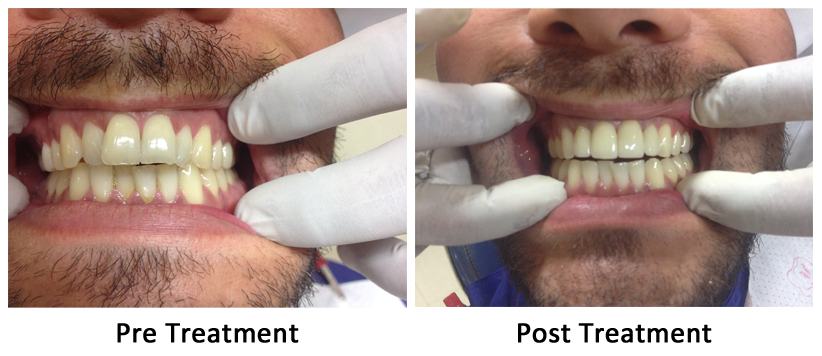 He recently mailed us about having better results in his job. Said he felt so much more confident and was psycologically a happier and more positive person. When he said he really looks forward to going to work every morning, we thanked God, that we had managed to contribute in a very small manner to his life.
Posted By – Dr. Suprriya B. Bhatia