It was indeed an invigorating 4 days (September 11th to September 14th) at the, FDI Congress 2014, held in Greater Noida, national capital region in India. It is a matter of pride for India to have hosted, the world's largest medical congress in the dental sector.
The exciting theme, 'A billion smiles welcome the world of dentistry ' echoed the need and importance of restoring the smile,on the face of the growing global population. It is in tune with the "Indian Dental Association's (IDA) goal of securing optimal oral health for all.
The inauguration of this mega dental event was done by the honourable, President of India, Mr Pranab Mukherjee, who stressed the profound point of  "the mouth being the gateway to the health".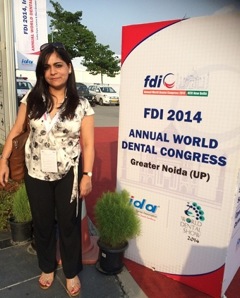 The venue, 'India Expo Centre' was a treat.It is a modern world-class venue, with state of the art audio and video conferencing facilities, spacious, with global safety standards.
The congress featured continued education, via the cutting edge scientific programme, trade exhibition, networking and social events.
The scientific programme covered 25 key topics in dentistry, from endodontics, oral medicine and preventive dentistry to practice management and the latest innovations in imaging and digital dentistry. There were 30 renowned speakers from 20 different countries worldwide plus 70 outstanding Indian dental experts.
We learnt a lot, through, Hands on Courses on topics like 'Challenges in implantology 'to 'Aesthetic Lasers'. There were symposiums that ranged from preventive dentistry topics like 'MID/ART' (minimally invasive dentistry/ atraumatic restorative techniques) to contemporary ones like, 'Implant aesthetics is achievable.' Lectures covered boththe business aspects of running a dental practice with topics like,'Financial management:tools and best practices' and the science involved in dentistry with topics like, 'Infection control in dentistry: current paradigms.'
The dental trade show was the pick of the event. It exhibited renowned brands in 594 booths. The innovative products and evolving technologies that were showcased and explained by their company representatives in this mini global dental market, was a complete delight for every clinician including me.This interactive platform, which was offered, helped me understand the expanded scope of the new range of therapies now available.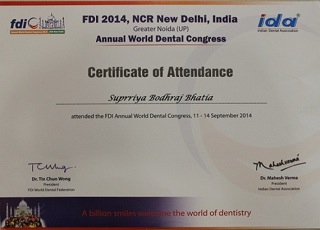 The "India evening" which was organized on 12thSeptember, helped the international delegates get an authentic taste of India. It was a grand showcase of the Indian culture, tradition and cuisine.
I came back feeling very excited about dentistry as a profession. With so much continuing education and learning, of the evolving trends, treatment modalities and cutting edge technologies, I entered my clinic with a renewed rigor and enthusiasm to give the best to my patients. Last but not the least, as I started treating my first patient on the morning of Monday the 15th of September, after the 4 days in the conference, I said a little prayer, thanking God for making me part of a fantastic and one of the most noble professions in the world.
Posted By – Dr. Suprriya B. Bhatia