Irrespective of your age, irregular/ misaligned teeth can be embarrassing. We are not aware of the fact that misaligned teeth can lead to TMJ problems. 'Temporomandibular joint' also known as TMJ is the basic junction of attachment of your jaw to the ear and skull. Due to crooked/ misaligned teeth you can over stress your muscles and tendon of your jaw leading to various problems in your joint in future. You need to correct the positions of your teeth in order to chew food properly. The stomach needs properly chewed food in order to digest it.
As we age, our teeth often move positions and become crooked, which can make people self-conscious about their smile and the appearance of their teeth. At 'Smile Delhi- The Dental Clinic' we have options to help correct the alignment of your teeth or straighten your teeth without using unsightly metal braces. Our team of specialists can help you to choose the right treatment plan for crooked and damaged teeth and help you achieve a beautiful smile that you can show off
One such treatment includes orthodontic braces/ aligners. With recent development in dentistry, you don't need to be worried about the unsightly metal braces and bands around them. You have various new options such as conventional ceramic braces, self-ligating ceramic braces and invisible aligners (Invisalign/ Clear correct).
By ceramic braces, we mean those brackets which are tooth-coloured and blend seamlessly with your natural teeth. Along with the advantage of correcting crooked teeth, it also makes you feel less embarrassed in public places.
Likewise, the invisible aligners are clear transparent aligners that can be worn socially without being noticed.
We at Smile Delhi are sensitive to the fact that patients get embarrassed to wear braces. Our braces specialist (orthodontist) can help you choose more aesthetic options to get your dream smile.
The advantages of self-ligating ceramic braces include:
Less noticeable than metal braces
Reduces the treatment time by 30% than in traditional braces
Less visits to the dentist i.e. once in 6-8 weeks
Less painful as there are no elastic bands/ rubber bands, hence less friction and ultimately less pain
Easier to clean because of the absence of elastic rubber bands, thus avoiding gum diseases and cavities
Choosing ceramic braces will not only help you correct teeth alignment but jaw alignment as well. When your jaw is out of alignment it takes extra effort to chew your food, which can cause undue strain on the muscles and tendons in your mouth and can lead to long-term pain.
If you or a loved one are interested in learning more about braces options like ceramic braces, contact 'Smile Delhi- The Dental Clinic' for an orthodontic consultation.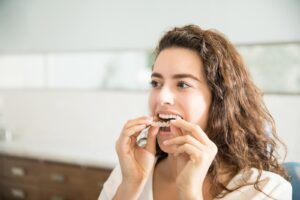 Self-Ligating Ceramic Braces
While self-ligating braces may look similar to traditional ceramic braces, they don't have the elastic bands around each bracket. Instead, the brackets are designed with a spring-loaded mechanism that constantly applies gentle pressure to the arch wire in order to move your teeth. In this way, self-ligating braces create less friction during teeth straightening and, in certain situations, the movement is also faster.
Another benefit of not having rubber bands or elastic ties on your braces is your teeth and gums often remain cleaner. The traditional elastics of braces are known for collecting bacteria and plaque, which can be a leading culprit to gum disease and decay during your treatment time.
If you have a more complex orthodontic issue, self-ligating braces can be an excellent solution. They tend to work faster and require less adjustment appointments, which is ideal for the busy adult or student. Self-ligating braces can also be formulated with ceramic brackets, which are less noticeable than traditional braces. To learn which type of braces is best for your lifestyle and needs, please call at Smile Delhi- The Dental Clinic.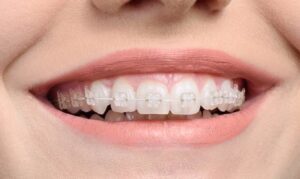 Invisible Braces/ Aligners
If you are looking for a minimally invasive, nearly invisible way to straighten your teeth, clear aligners are for you. Clear aligners, like Invisalign/ Clear correct are designed to invisibly correct crooked and irregularly gapped teeth. The aligners also have the ability to correct underbites on teenagers and adults.
Clear aligners offer advantages over traditional braces. The biggest advantage is that they are virtually invisible, which means no one other than you and your dentist will know you are straightening your teeth. These aligners are popular method of treatment by the best cosmetic dentists in Delhi.
Advantages of Invisible aligners
Straighten Your Teeth in Lesser Time
Invisalign clear aligners have the ability to straighten your teeth in relatively lesser time compared to traditional braces for basic to moderate cases.
Comfortable and Removable
Clear aligners are not affixed to your teeth like traditional braces. Instead, they are slipped on over the teeth and left in place for at least 22 hours a day. This means you can remove them to eat and drink. They are also more comfortable than traditional braces. Since the material is smooth and slightly flexible, the clear aligners don't come with the risk of cuts from metal wires and brackets.
Fewer Dentist Visits
Traditional aligners gradually move your teeth into their correct positions via a series of aligners. Each aligner tray is worn for about two weeks. At the end of two weeks, you'll switch to the next tray in the series. This results in the need to visit your dentist less often, usually only once every six to eight weeks.

Improve Your Dental Health and Wellness
Once your teeth are straight, you'll notice an improvement in your dental health and wellness. This is because teeth that are straight are easier to brush and floss. This is because you'll be able to reach every surface of your teeth in order to remove food particles and plaque. Now there are fewer catch areas for food.
The best dental clinics in Delhi are routinely doing ceramic braces and invisible aligners.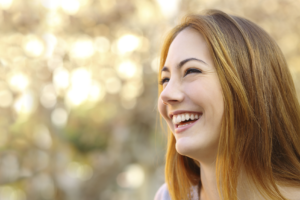 To book an appointment with us in, 'Smile Delhi – The Dental clinic'– call us on +91- 9811106871 or whatsapp Dr. Suprriya B Bhatia on +91-9811106377. You can also mail us on info@dentalclinicdelhi.com
"We Care To Make You Smile"
Posted by: Dr Hema