I have a patient, lets call him Mr X, who has been visiting us for many years. He is 81 years old, but in spirit and attitude he is much younger.  He has been happy with our services and especially likes the relaxed atmosphere in our dental clinic (in Delhi) where our patients are treated with gentle personalized dental care.

About one and a half year back my prosthodontist (denture specialist) made our patient a well fitting upper complete denture(since he had no teeth) and a flexible lower partial denture (as he had few natural teeth in his lower jaw). The dentures were  light as the best quality acrylic was used( fortunately or unfortunately India does not make any dental materials and in 'Smile Delhi-The Dental Clinic', being one of the best clinics in Delhi, we use world class dental materials)

The dentures fit the patient well. However though the dentures fit the patient well in his mouth, he did not accept them in his mind. He found the foreign body element to be huge. According to him the biting power was not satisfactory. The fact that they had to be removed and washed and cleaned every time he ate something was not appealing to him.

We kept counselling him so he could accept the dentures but it was not helpful.  Whenever my receptionist would give him an appointment for a follow up he would take the appointment but cancel it at the last minute.

Basically the patient had not accepted the dentures in his mind or mouth and was not using them.

I felt very bad about this as he was one of our few patients (I could count such patients on the fingers of one hand) who had not accepted the dental treatment provided to him.

It was about a month back that this patient enquired about the viability of dental implants in his mouth.

Frankly speaking, I had not suggested the alternative treatment with implants to him, as I took it for granted that at his age Mr X would not go forward with this treatment.

However when I suggested, implants was a good alternative dental treatment and were certainly possible, he gave us the go ahead.

We were very excited and started immediately.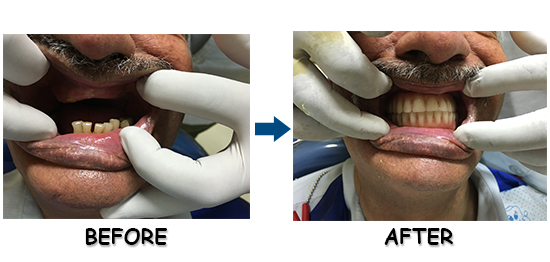 On day 1, six implants were inserted in his upper jaw  bone. On day 2, the welding of the implants were done in the mouth. The same day 12 permanent teeth were fixed to these implants. So in two days the patient went from no teeth to permanent fixed teeth.

After a week the same procedure was repeated for his lower jaw. On day 1, the remaining few natural teeth were removed from the lower jaw and six implants were inserted. On day 2, the intra oral welding of the implants were done and 12 permanent teeth were fixed on these implants.

Mr X was very happy, as all along he had wanted fixed teeth in his mouth. The biting power was as good as natural teeth. There was zero foreign body feeling. There was no regime to remove the teeth every time he ate and wash and clean them. No food got stuck like under his dentures.

He felt good, his morale was boosted as he started enjoying eating his food once again. The overall health also improved.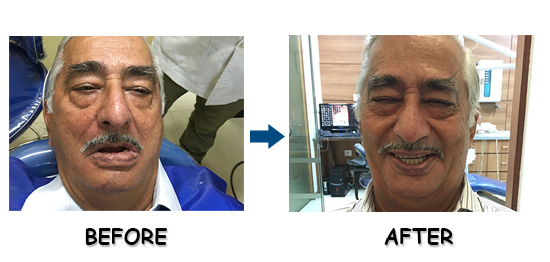 Dental implants in India is a routine procedure now. In the well equipped dental clinics in Delhi, implants are being done frequently. In fact in 'Smile Delhi-The Dental Clinic', one of the reputed dental clinics in Delhi, dental implants are done so routinely, that dentures and bridges are getting obsolete. In fact the implant specialist of 'Smile Delhi –The Dental Clinic', who is one of the three pioneers in the country to start doing implants (which he started doing since 1984) is the only implant surgeon in India who is routinely doing the intra oral welding of implants and has treated 103 cases successfully.

Dental implants treatment is Delhi is both relatively affordable and of global quality, since dental implants are not made in India. So in a multispeciality dental clinic in Delhi, like 'Smile Delhi-The Dental Clinic', patients from other countries are visiting frequently to get their dental implant treatment. Since expertise, sterilization and equipment is world class the success rate for dental implant treatment in 'Smile Delhi –The Dental Clinic' has been 98 percent, for the last 17 years.

Posted By – Dr. Suprriya B. Bhatia