Missing teeth can affect you more than just your appearance. Your confidence can shake when you have missing teeth, but that's not the only reason you should consider replacements for your missing teeth as they can affect your health more than you realize.
When one or more teeth are missing:
The gap between the teeth increases the risk of oral health problems.
Teeth on either side shift and become crooked.
There is a difficulty in chewing, eating and speaking.
Increased risk of decay, gum disease and more teeth are lost.
Two of the most popular treatment for replacing missing teeth  are:
Dental implants.
Dentures
Both dental implants in Delhi and dentures in Delhi  are popular treatments to replace missing or decayed teeth.
In this blog, we are going to draw a comparison between the two treatments so that you can make an educated decision as to which solution would fit you the best.
Let us first discuss briefly about both the treatments.
Dental implants
They are permanent teeth replacements, and have become a popular alternative to dentures. Dental implants are titanium screws attached to your jawbone, which give the secure fit of natural and healthy teeth. Implants are one time solution, last longer and save you money over time. They are easier to maintain compared to dentures and are thus becoming  the preferred choice. Now even the cost of full mouth dental implants is becoming relatively affordable, with the variety of dental implants available.
Advantages of dental implants:
Preserve the integrity of the underlying jaw bone.
They do not fall out while speaking or eating in social situations.
The biting capacity is 95% same as the natural teeth.
Best replacement for one or more missing teeth.
Life long and permanent treatment.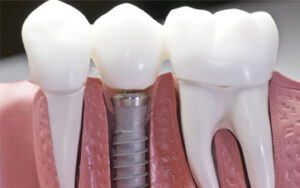 Dentures
They are removable teeth replacements and have come a long way over the centuries. With advancements in technology, dentures today look more natural and aesthetic than ever.
There are two types of dentures:
 Complete Dentures: Used when all the teeth are missing.
Partial Dentures – Used when some healthy natural teeth are remaining.Additionally, there is also a hybrid option which combines the use of dental implants to create a permanent (non-removable) solution.The cosmetic dentures at Smile Delhi- The Dental Clinic are:

Made from the highest-quality dental materials.
Customized to ensure a great fit.
Look just like your natural teeth.

Made to fully restore your ability to chew and speak.
Advantages of Dentures are:
more economical than dental implants.
are an ideal option for anyone with unhealthy or weak jaws.
It is suitable for people who may not be candidates for implants for medical reasons.
Dentures are not for everyone, though. At times, if the dentures are not secured with denture adhesive, they can slip out of place while eating or speaking. Dentures can also lead to infection or tooth decay if they're not fitted properly.
To make it easier for you to decide between the two options let us draw a comparison.
Dental Implants
Dentures
Support
Fixed to the jawbone just like your natural teeth
Take the support of your gums.
Durability
Last lifetime
Need replacements relatively frequently
Oral hygiene
Easy to maintain simply by brushing and flossing
Need to be removed regularly for cleaning
Appearance
Look and function very natural
Can feel bulky
Cost
Relatively expensive
Reasonable
Bone stability
Preserves natural bone
Bone and gum resorption occurs
Chewing capacity
Restore normal chewing capacity; 95% of the natural teeth
Restricted chewing capacity, often have to avoid certain food
Treatment time
2 phase treatment.

Phase 1: implant placement.

Phase 2: crown placement.

There is waiting period of 3-6 months between 2 phases

 Denture can be fabricated in one week.
In a nutshell, patients who want a permanent solution that closely mimics the look and feel of healthy, natural teeth will want an implant or series of dental implants. While some patients feel that dentures are a "cheap" option and thus like to consider them. With the advancement in dentistry, the functionality of dentures is much greater than it was just a few years ago; it can never match teeth that are anchored into the jawbone.
The good news is that now there are different options available for the replacement of missing teeth which are permanent and economical.
All on 4 implants
Implant supported dentures
So when you are weighing your options for the replacement of your missing teeth, it is always a good idea to talk and discuss your options and concerns with   your dentist. They can guide you to take the right decision and explain the pros and cons of the option which is suitable for you in detail.
'Smile Delhi- The Dental Clinic' is one of the best dental clinics in Delhi and is known for their Dental implant treatment in Delhi. Our team of implant specialists is among the pioneers of dental implants in Delhi.
At' Smile Delhi- The Dental Clinic', our staff is happy to answer any of your questions and can help you decide if dental implants or dentures are the right choice for you.
To book an appointment with us, call us on, "Smile Delhi- The Dental clinic"- 09811106871 or whatsapp Dr. Suprriya Bhatia on +91-981106377 . You can also mail us on info@delhidentalclinic.com.
 We Care To Make You Smile.
Posted By – Dr. Sonam