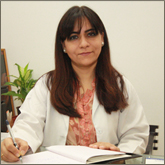 Dr Suprriya B Bhatia, BDS, MRSH(UK), MFDI(UK), FAGE, did her Bachelor Of Dental Sciences, (BDS), from SDM College of Dental Sciences, Dharwar, Karnataka in 1994.
She completed her internship from the same institute in 1995.
She got her affiliate degrees of MRSH and MFDI from Glasgow, Scotland, UK in 1997.
She went to study further to the Sydney University in Australia in 1998.
She has been involved in active private dental practice in Delhi since 1998.
She has kept herself abreast with the latest in the field of dentistry by attending various international and national confrences.
She has upgraded her skills by consistently attending various, "Continuous Education Programmes " and courses.
She got trained for dental implants by doing the "Nobel Fellow Programme" in " Implant and Esthetic Dentistry", which was conducted by Nobel Biocarecompany of Sweden, from June 2008 to December 2008 in New Delhi.
Recently she got certified by the American Heart Association for becoming a certified healthcare provider in the BLS ie Basic Life Support programme.
She is passionate about dentistry and likes to offer the latest and most advanced dental treatments available worldwide, to her patients so they can enjoy not just the best oral health but overall health for a long long time.
Dr Suprriya enjoys most of the procedures dentistry has to offer but her favourite is smile makeovers / designing smiles through various cosmetic dental procedures ie veneers, crowns, teeth whitening, bonding etc. She is very fond of treating kids.
With her team of six specialists, all the dental treatments available worldwide are conducted at Smile Delhi-The Dental Clinic viz…dental implants, lingual braces(braces on the inner surface of the teeth), one sitting root canals, crowns, veneers, cosmetic dental procedures, kids dentistry etc.
Dr Bhatia regularly conducts Dental workshops for various corporates. Some of the reputed organisations where she has conducted such workshops,dental camps are
Times Of India
Tata Consultancy Services
JubiliantOrganosys
NIIT
American Express Bank
HCL Technologies
Zee
Dr Bhatia"s philosophy of treating patients ; "I choose that treatment for my patients, which I would recommend to my family members, best in terms of quality, longevity and ease of maintenance."
Her vision is ,"To serve humanity by providing the best of dental care."
Besides dentistry Dr Suprriya finds her Zen in travel, Vipassana meditation, nature and adventure.
Of her travels worldwide, Santorini, Salzburg, Burgundy ,Paris and Petra are some of the places close to her heart .In India her favourites are Ladakh, Kerala and Rajasthan esp Udaipur and Jaisalmer.
Having done a few 10 day Vipassana courses and some 3 day courses , she prefers to serve a course than sit one.
Her love for nature has motivated her to trek the Himalayas and Ladakh, cruise the Nile,explore the Sunderbans and the exotic Rann of Kutch amongst other cherishable experiences.
Microlite flying, parasailing, hot air ballooning , snorkeling, river rafting , camping for days on end in the woods have catered to her need for an Adrenaline rush.
Academic Excellence